On Track
Leveraging AI to reduce newcomers' stress and anxiety
Project Details
BrainStation Capstone Project

Timeline: 10 Weeks

Team: Individual
Tools Used
Figma

Invision

Zoom

Good Notes

Earl Grey Tea
My Role
UX Researcher

UX/UI Designer

Project Manager
problem overview
What's going on with the immigration system?
In 2021 alone, Canada welcomed more than 400 000 new immigrants. Yet, the process of becoming a refugee, permanent resident, or temporary resident is daunting and frustrating to navigate.

In conducting research, I uncovered that users struggled the most with the uncertainty that comes after submitting their immigration applications.
solution
What I did to solve the problem
Designed by newcomers for newcomers, On Track is an iOS app that leverages natural language processing to estimate when they'll hear back. The app works in three simple steps:
discovery of problem space
Channeling a personal struggle into an opportunity to help others
I was born and raised in a small, tropical country called Panama. I came to Canada 8 years ago and navigated the immigration system for 6 years as a refugee. I truly understand how frustrating, inefficient and lonely it is to navigate the immigration process as a newcomer and I wanted to make this better for current and future immigrants.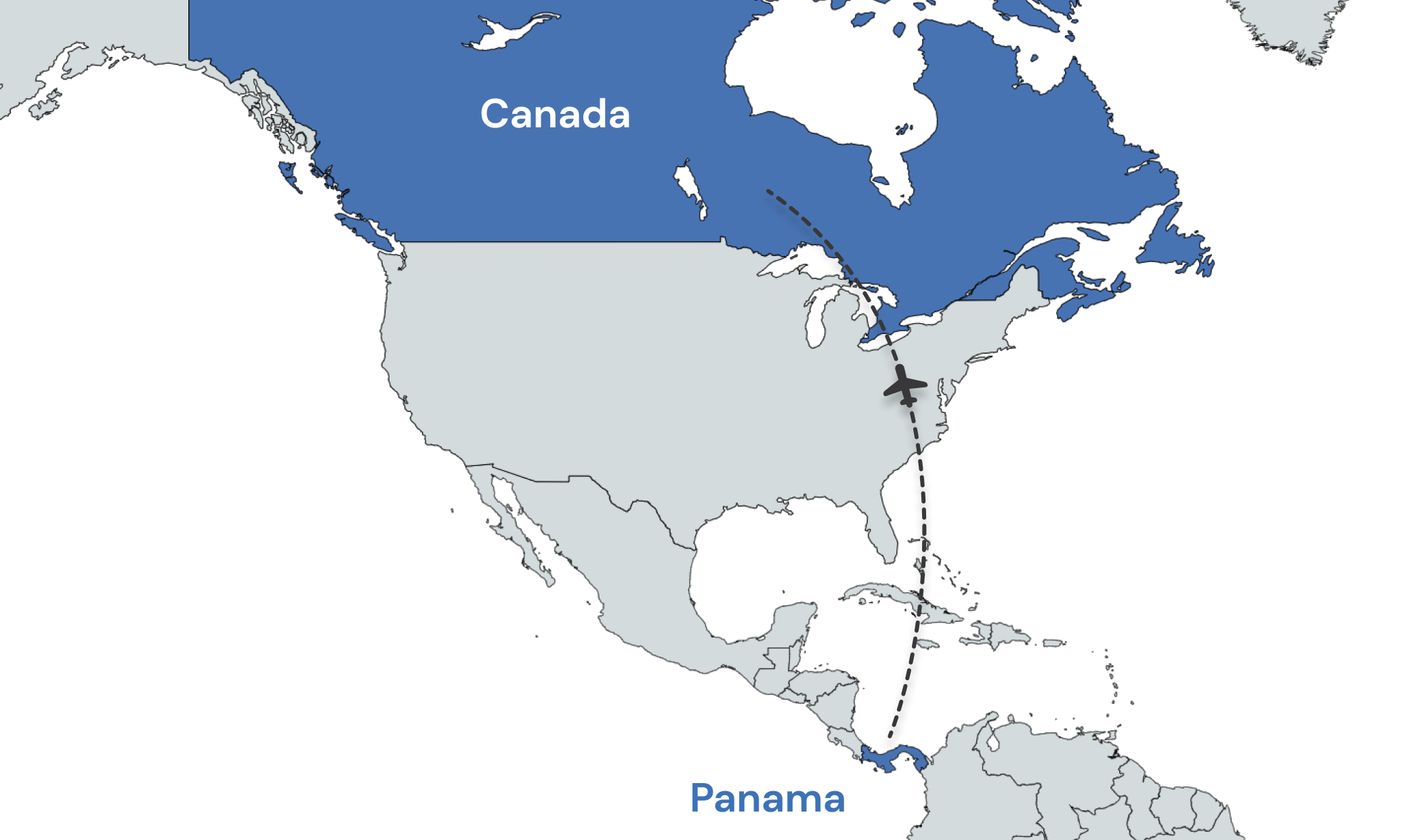 secondary research
Newcomers are struggling with the immigration process
As of June 29, 2022, Canada has a backlog of more than 2.4 million immigration applications. Though the immigration process is notorious for taking long periods of time, the pandemic has exacerbated these delays. As a result, people are frustrated, anxious, and depressed.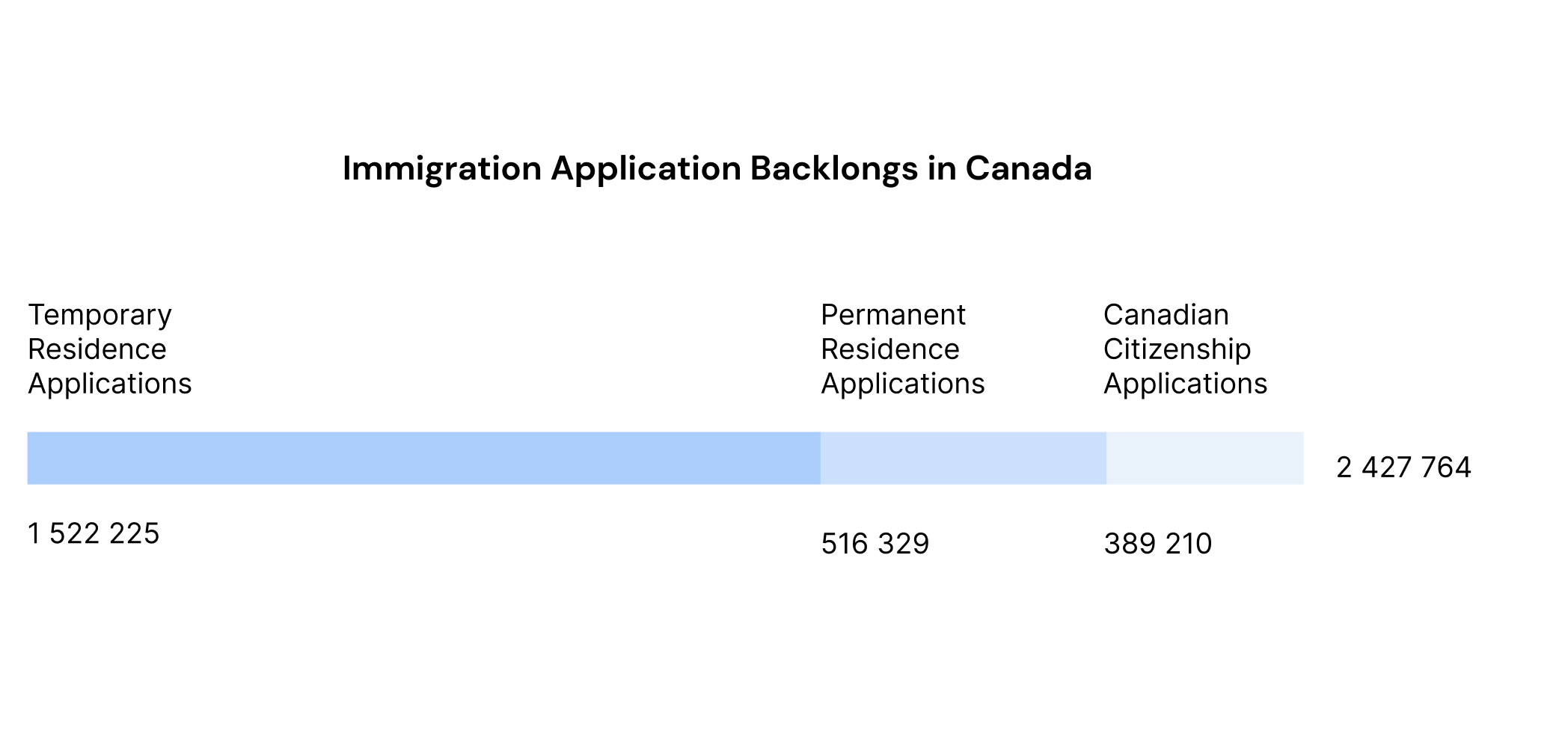 primary research
Conversations with potential users to identify key frustrations
I conducted user interviews to understand the general beliefs that newcomers had surrounding the immigration process. I conducted 5 interviews of 40 minutes each. The participant criteria was as follows:
Age: 25-35

Submitted a temporary resident, permanent resident, or citizenship application within the past 5 years.

Submitted the application from within Canada

Did not receive professional legal help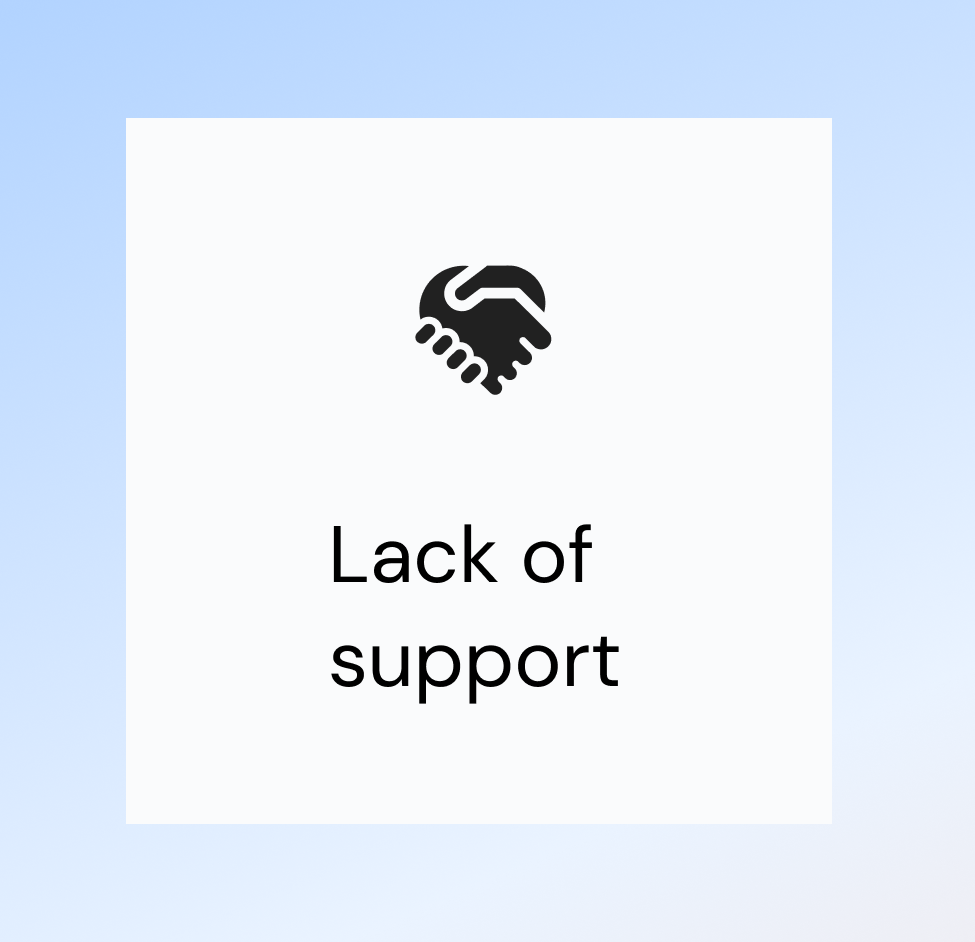 Young newcomers feel frustrated about the lack of support from immigration services. As a result, they seek support in online and in-person communities.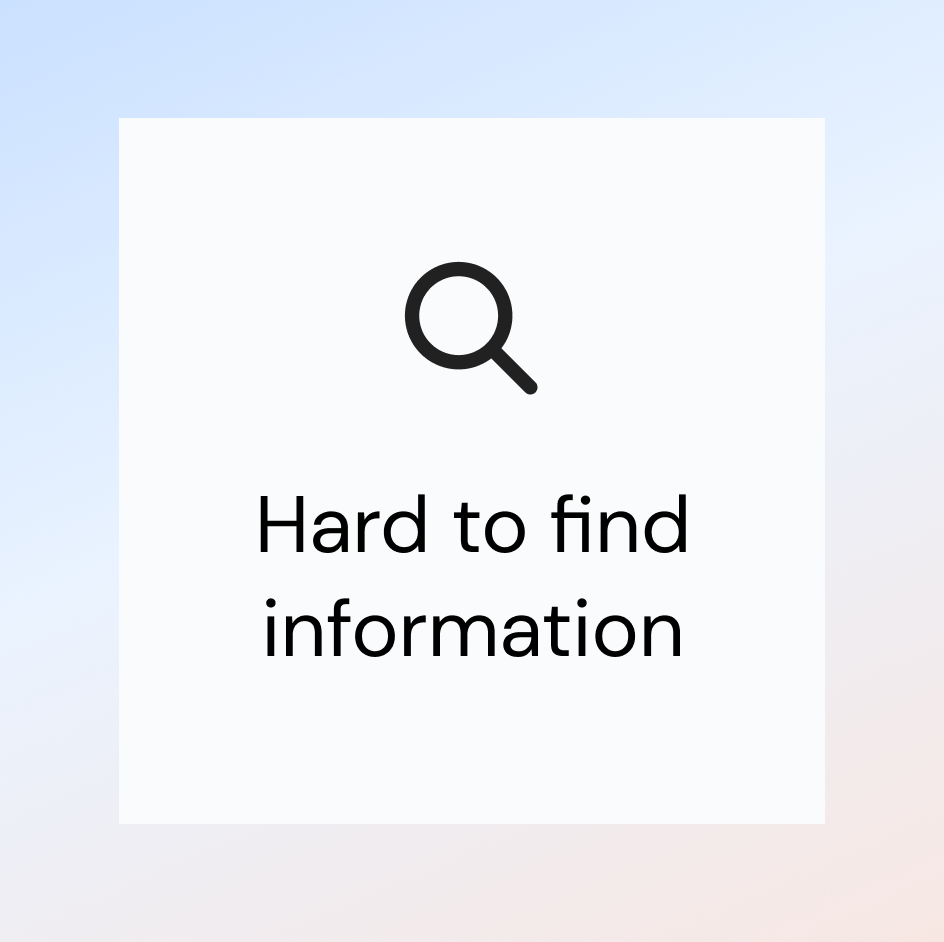 It is hard for young newcomers to find and understand information related to their immigration application.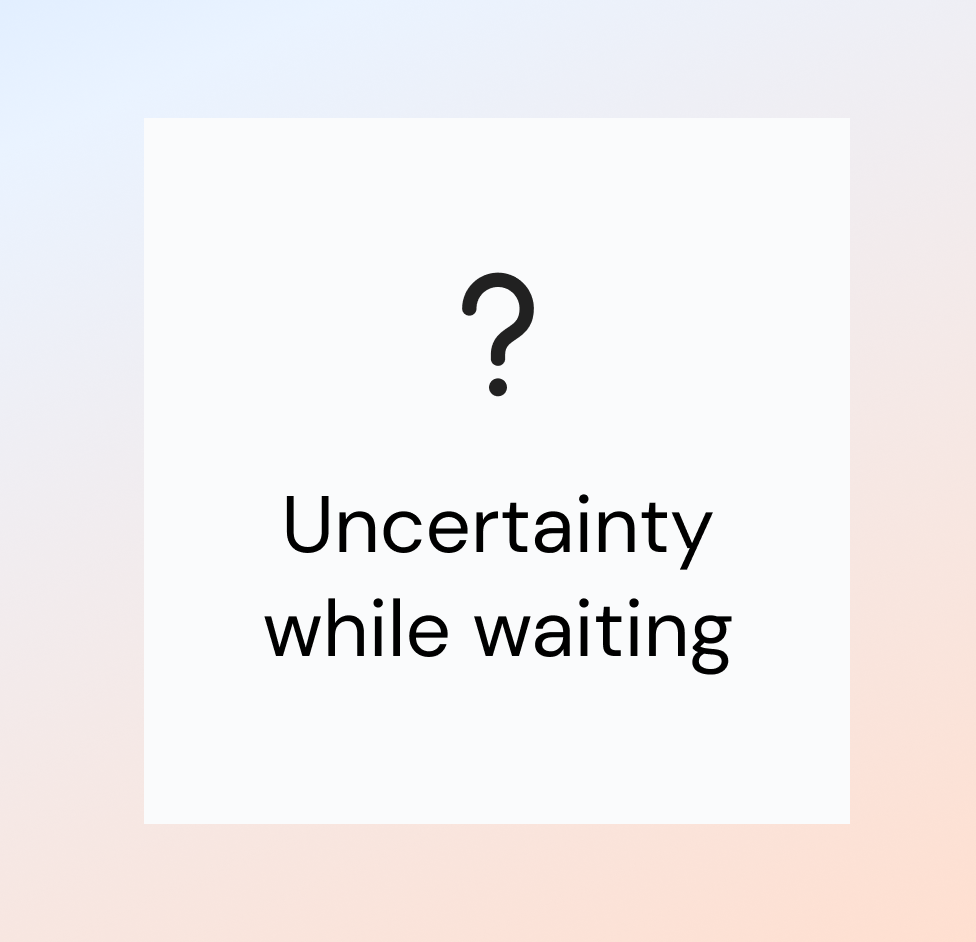 Young newcomers feel stressed and anxious when going through the immigration process due to a lack of directionality and timely updates.
Chosen theme: Uncertainty while waiting
I chose to focus on uncertainty because every single participant said that they were stressed and anxious about not hearing back after submitting their immigration application.
expert interview
Why were delays and lack of updates so prevalent?
To find out, I contacted a subject matter expert at the Immigration, Refugees, and Citizenship Canada (IRCC). They said that it was because:
Agents themselves lacked access to the applications so they couldn't provide updates even if they wanted to

There's a lack of cross-functional communication within IRCC departments
With this in mind, I thought the user would benefit from a solution that did not rely on governmental systems.
My northern star
How might we help young newcomers feel less stress and anxious while waiting for their immigration results?
persona
Benjamin, the anchor to all solutions moving forward
I developed a persona and experience map based on primary and secondary research. Benjamin, our persona, would be at the center of all my design decisions moving forward. I referenced Benjamin whenever I wanted to step out of myself and reconsider my ideas. He was a constant reminder of who I was solving for.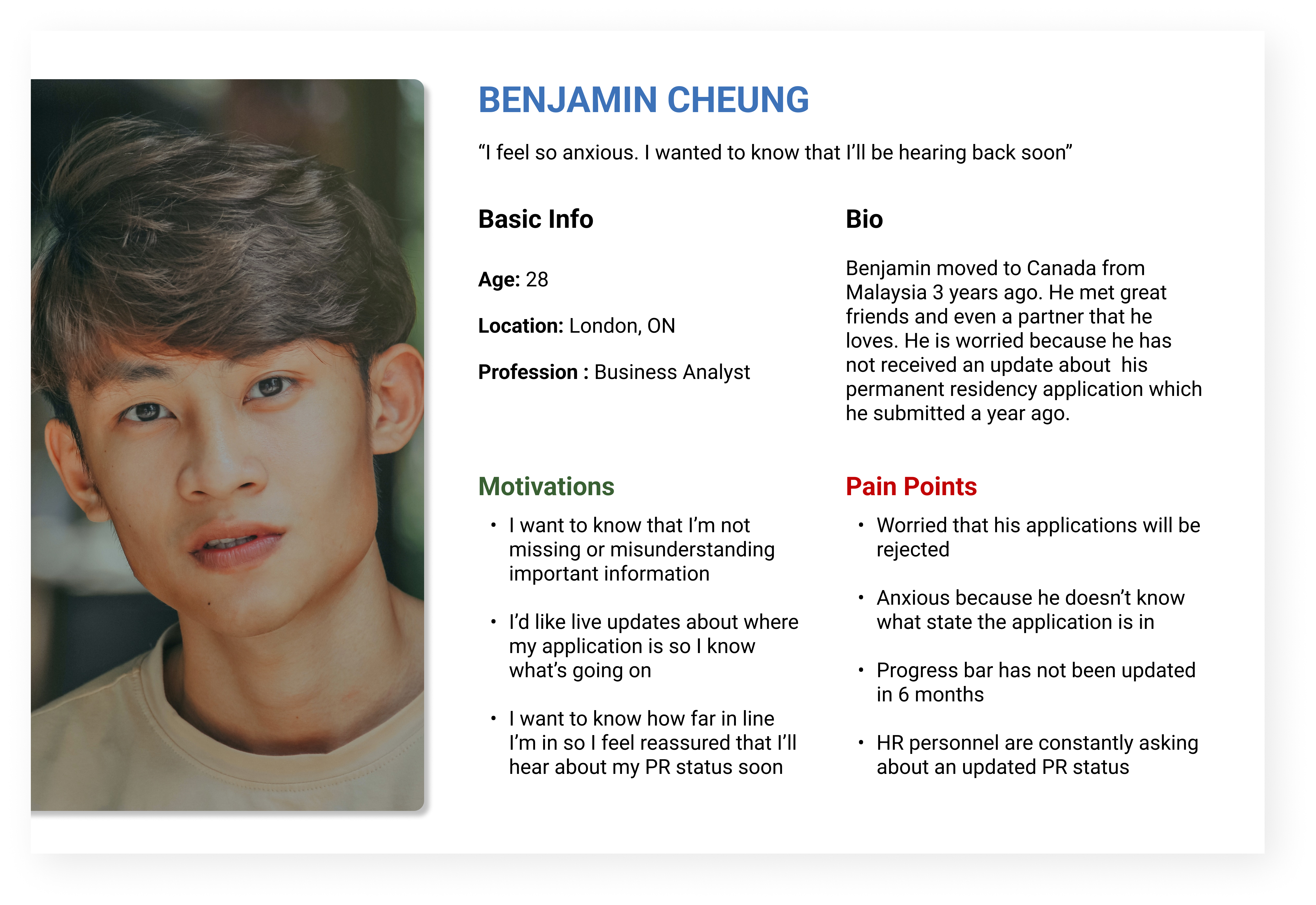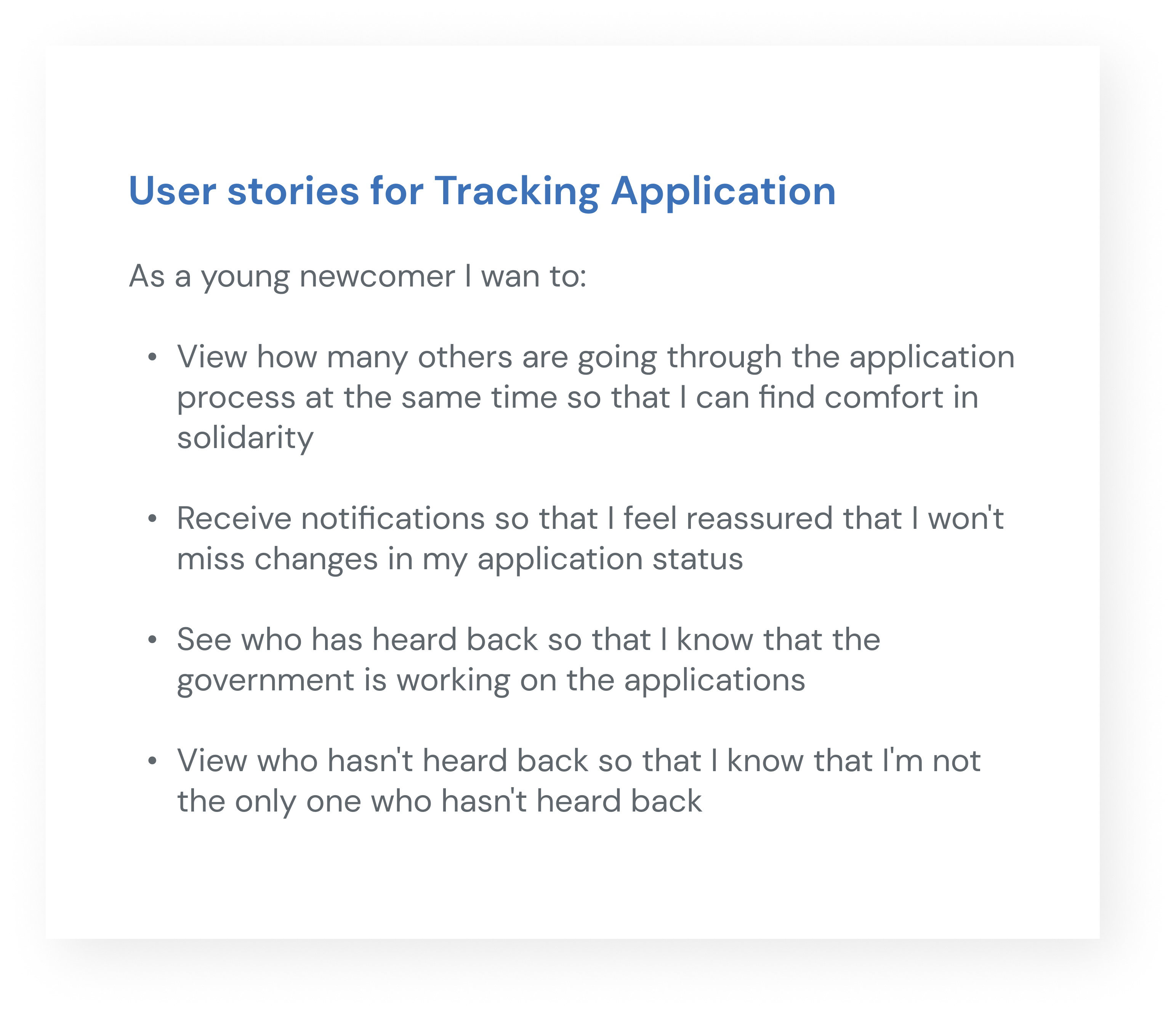 user stories
Thinking of potential features
Now, with a clear grasp of the project constraint, users, and stakeholders, it was time to ideate. The user's behaviors, goals, and frustrations informed the creation of 26 user stories that were categorized into 3 epics:
Managing applications

Finding answers

Tracking Application
I decided to focus on "tracking application" because it addresses the most pain points, motivations, and goals of the user.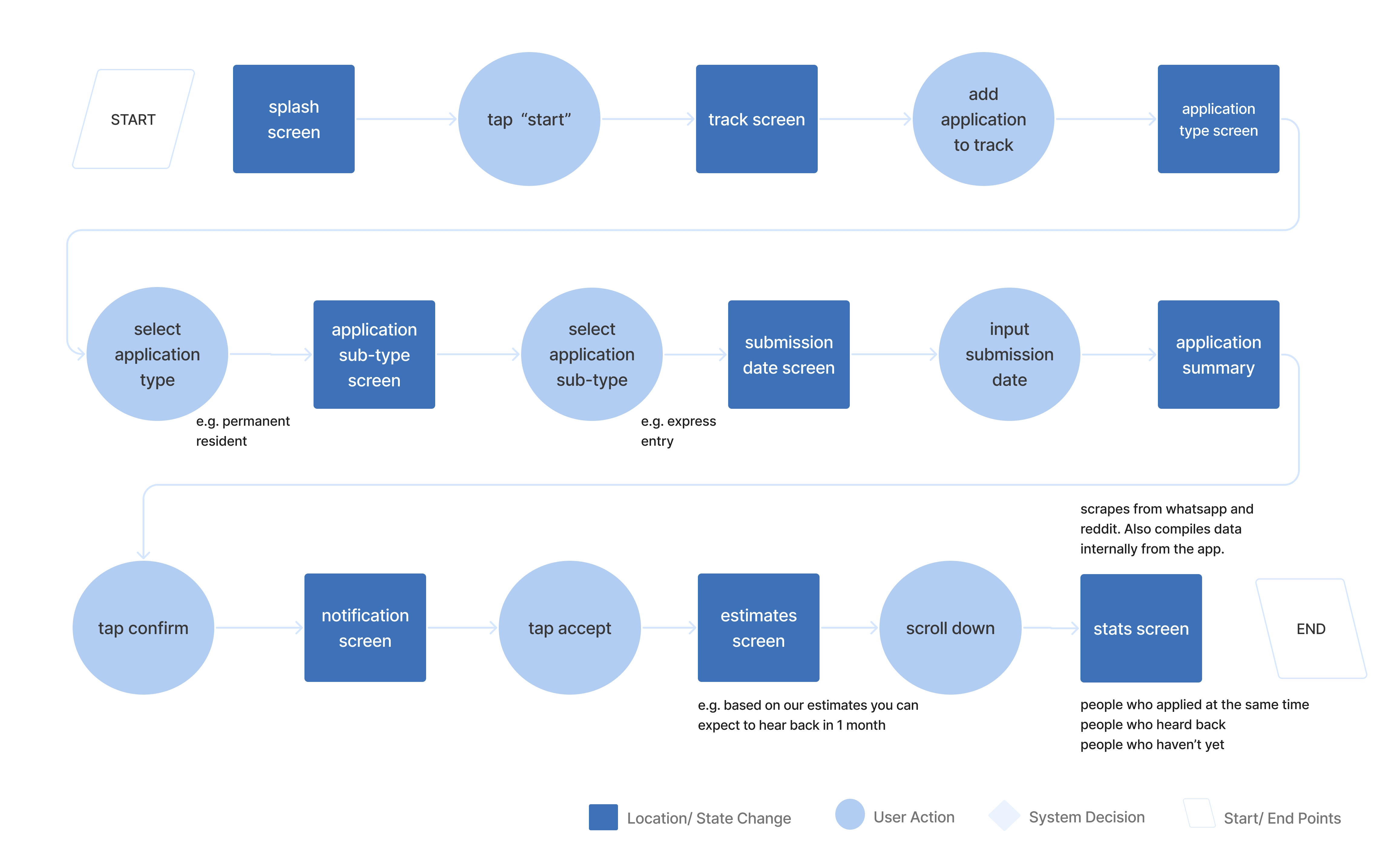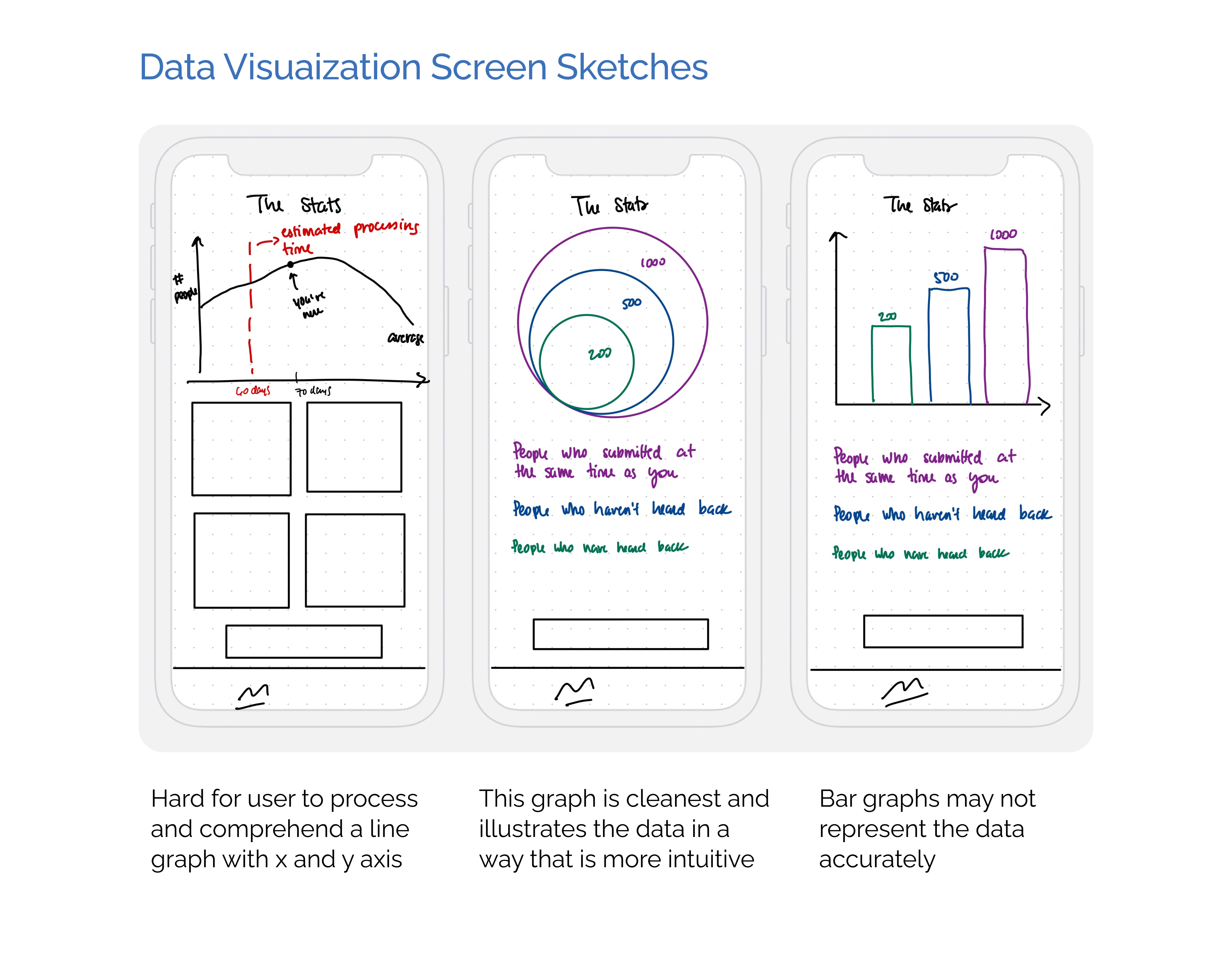 sketching
Onto the drawing board!
The purpose of my sketches was to get as many design ideas out of my head as quickly as possible. I created three sketches for each screen to ensure that I was casting a wide net. After sketching, I critically analyzed each of them against the users' goals, pain points, and motivations. Finally, I selected the ones that fit the bill.
wireframes
From sketches to wireframes
Design consideration 1: Trust and Privacy
Some newcomers come from places where a lack of trust, corruption, and violence are prevalent. In order to increase trust with the user, the app does not ask for any personal information when using the app.
Design consideration 2: Simplicity
Since the user was already experiencing stress and anxiety due to the immigration process, the solution focused on ensuring we weren't adding more stress.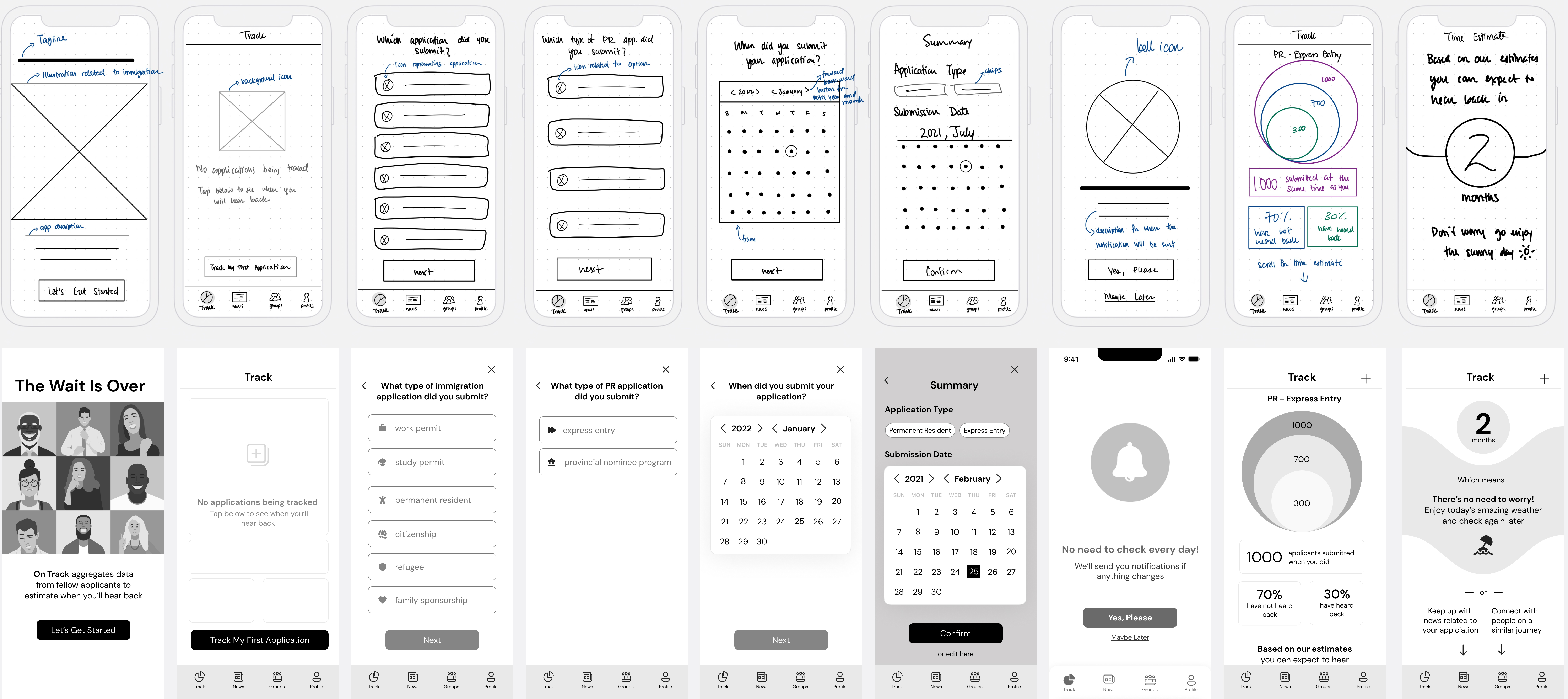 user testing
Getting feedback from users
I conducted two rounds of user testing with 5 users in each round. The users were given 6 tasks to complete. All users completed the tasks successfully. However, there were still some opportunities for improvement. In the next few diagrams, you will see version one of the prototype on the left and version 3 on the right.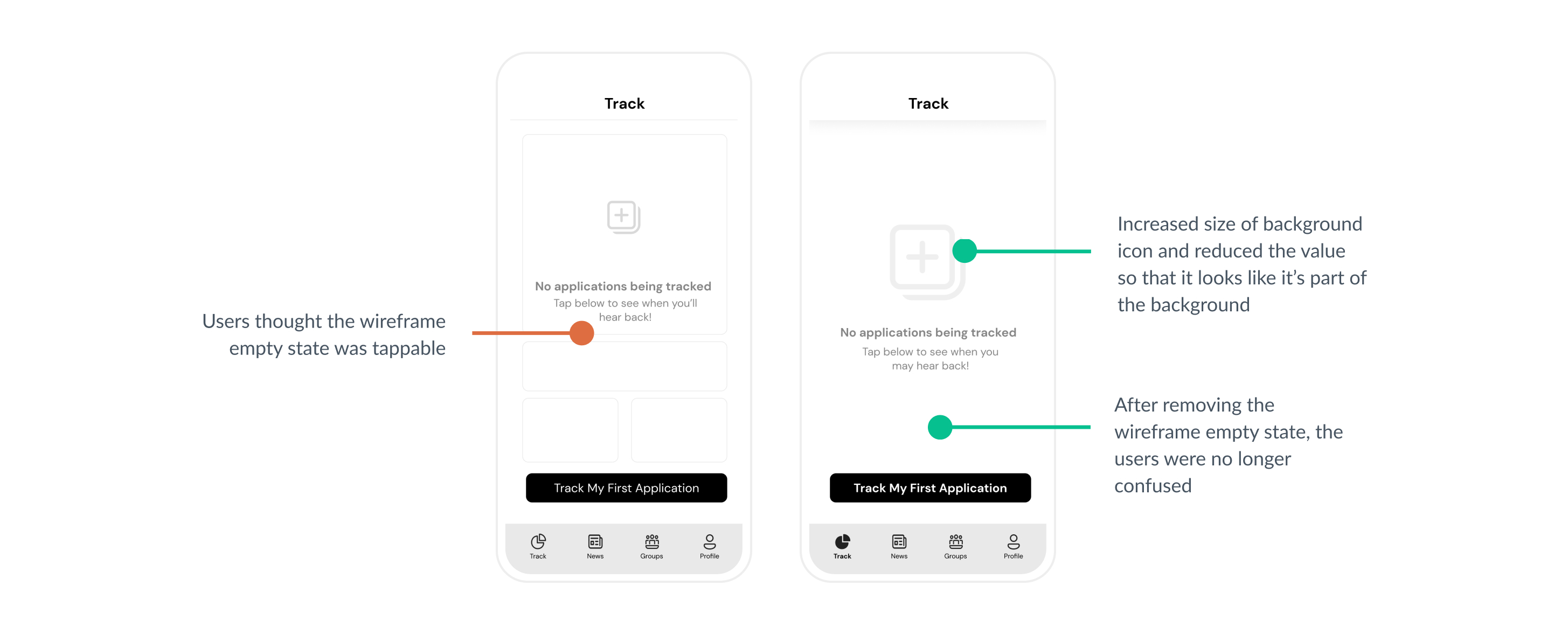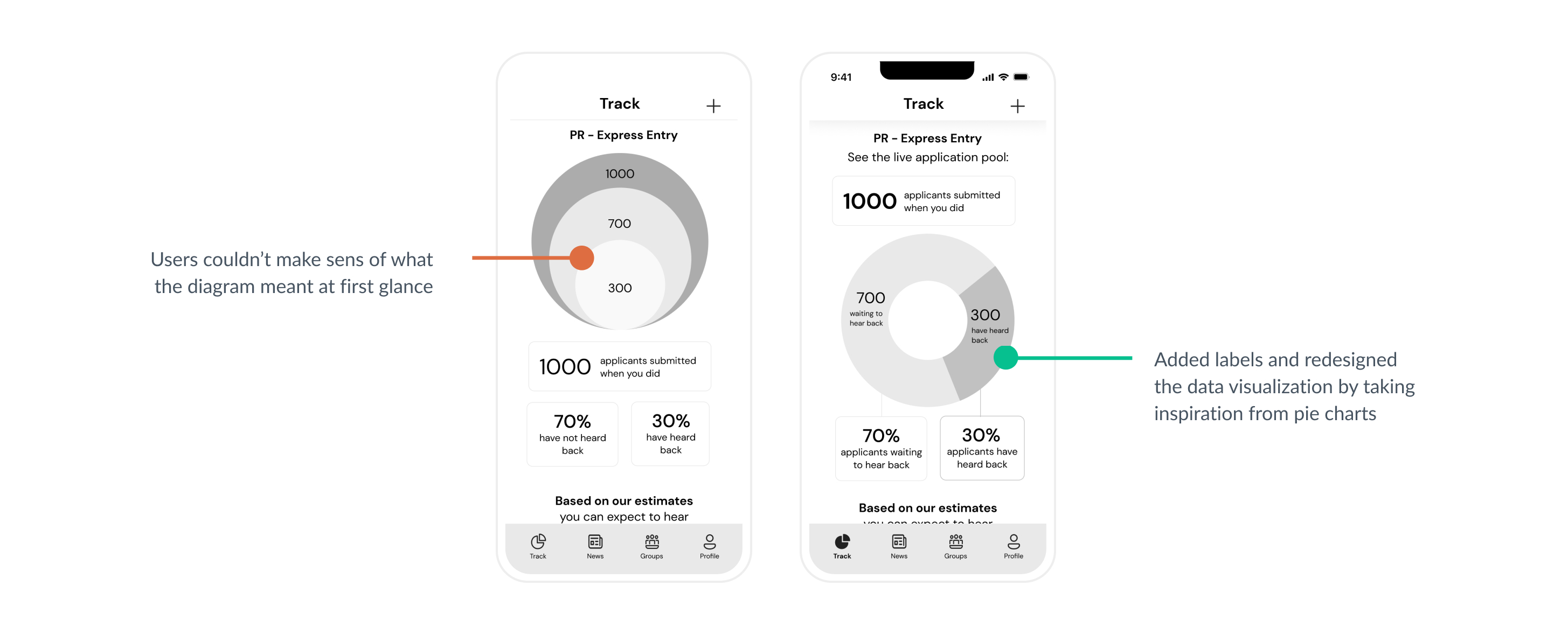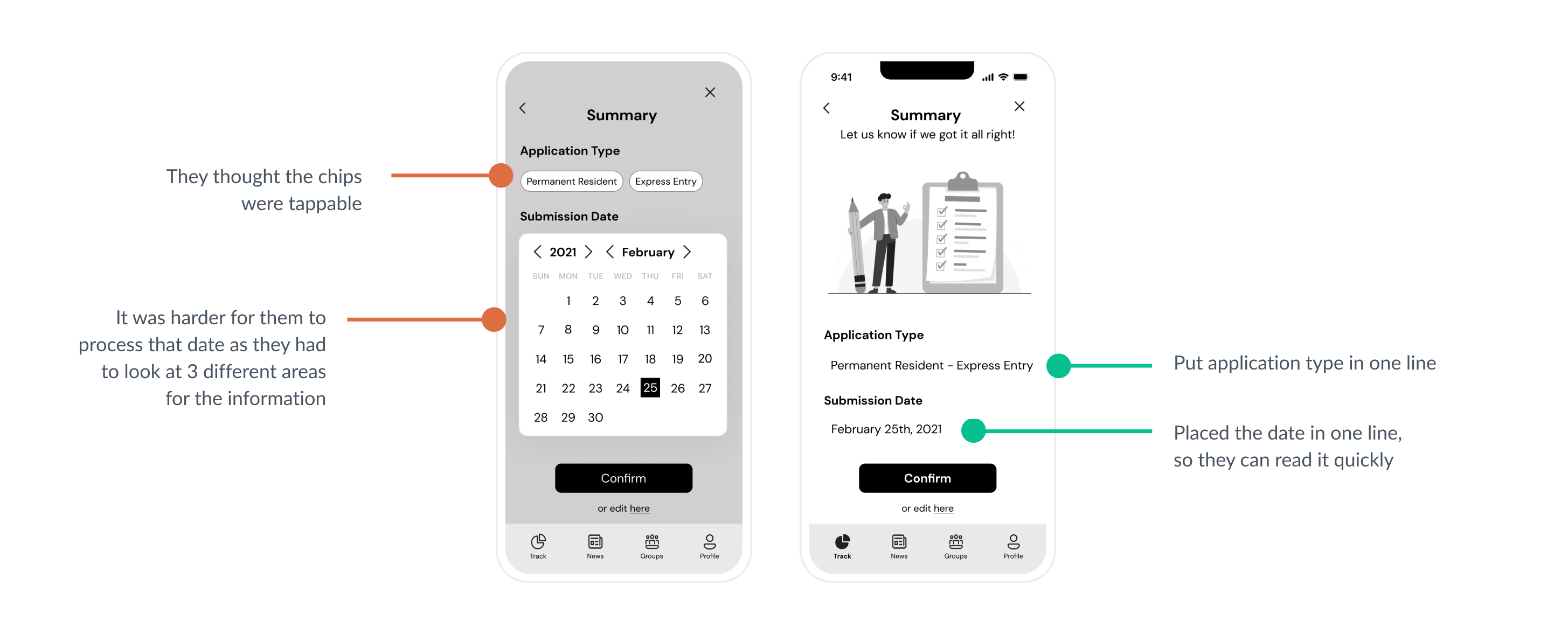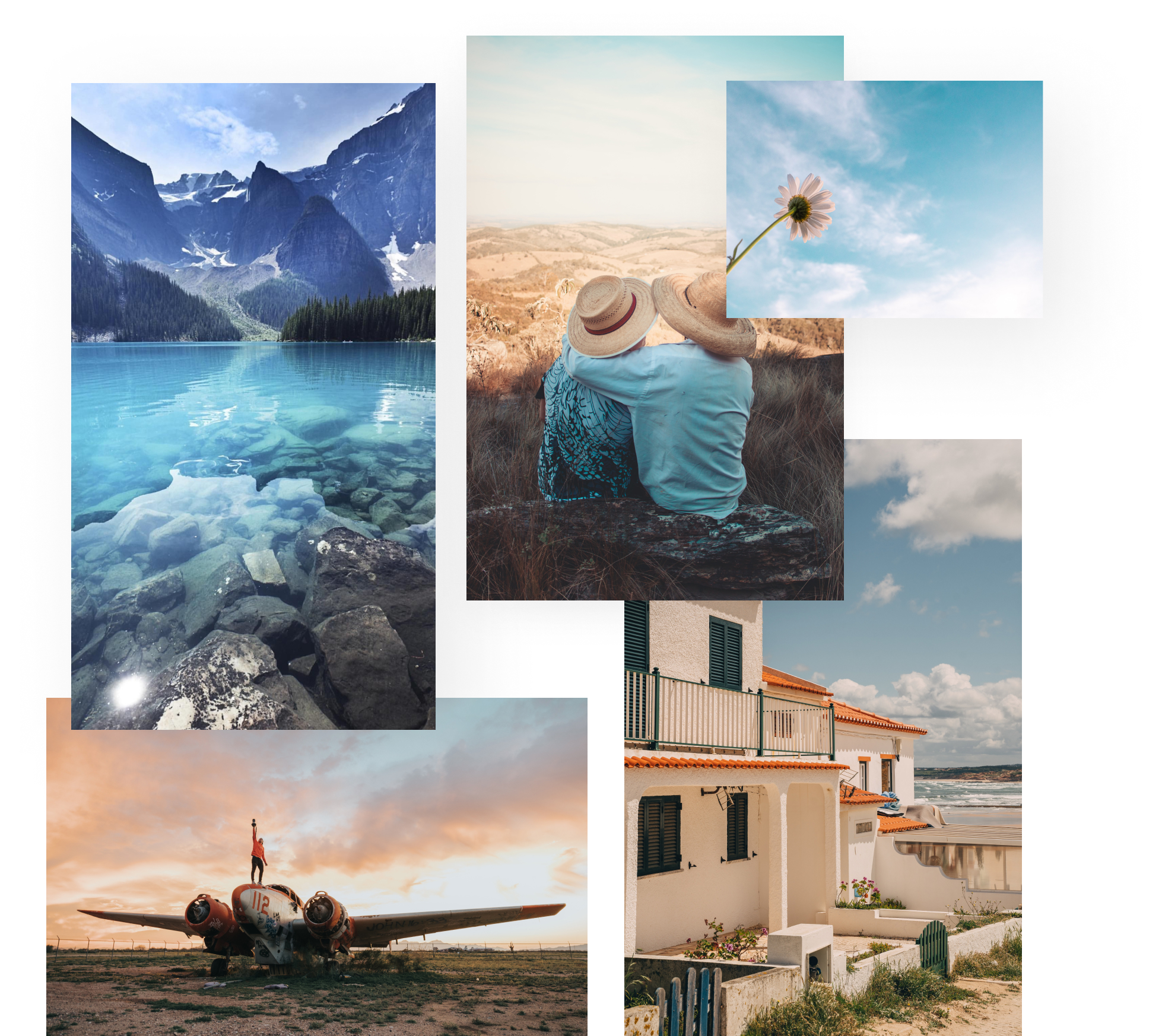 brand development
Unleashing the creative juices
To begin the brand development for On Track, I wrote down a list of adjectives that would bring positive emotions to the users. I took special consideration for the users' pain points surrounding anxiety and stress as well as the sensitive nature of the immigration application to craft my adjectives:
Reliable

Trustworthy

Calm

Hopeful

Secure

Relief

Welcoming

Honest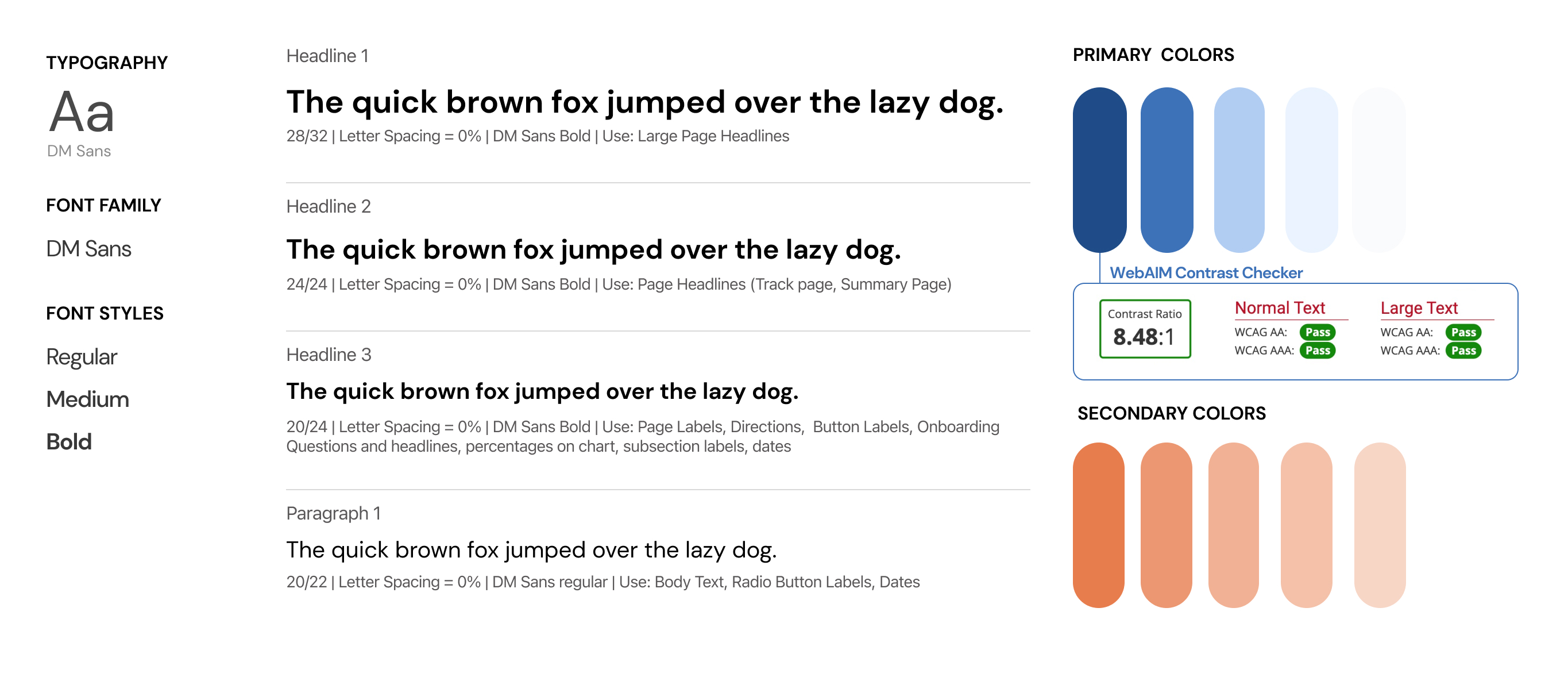 icon design
Putting my branding cap on
Before deciding on On Track, I explored other app names including Hopely and Immitrack. I chose On Track because, at the end of the day, users wanted to hear that they were on track with their immigration application, As such, On Track serves as words of encouragement - as if to say "no worries you're on the right track".

high-fidelity prototype
Bringing it all together
By injecting colours, implementing chosen typography, and considering the branding of the app I created my final UI Design.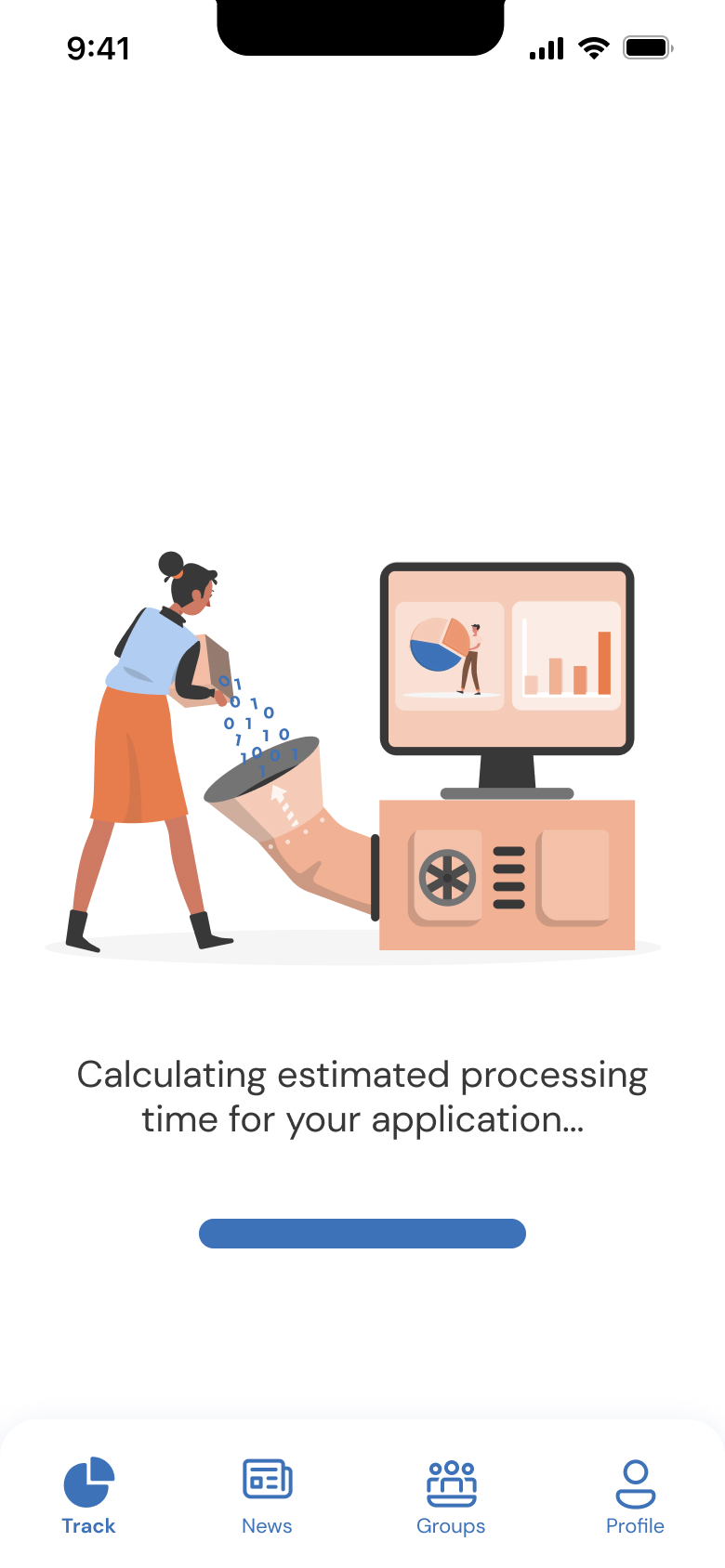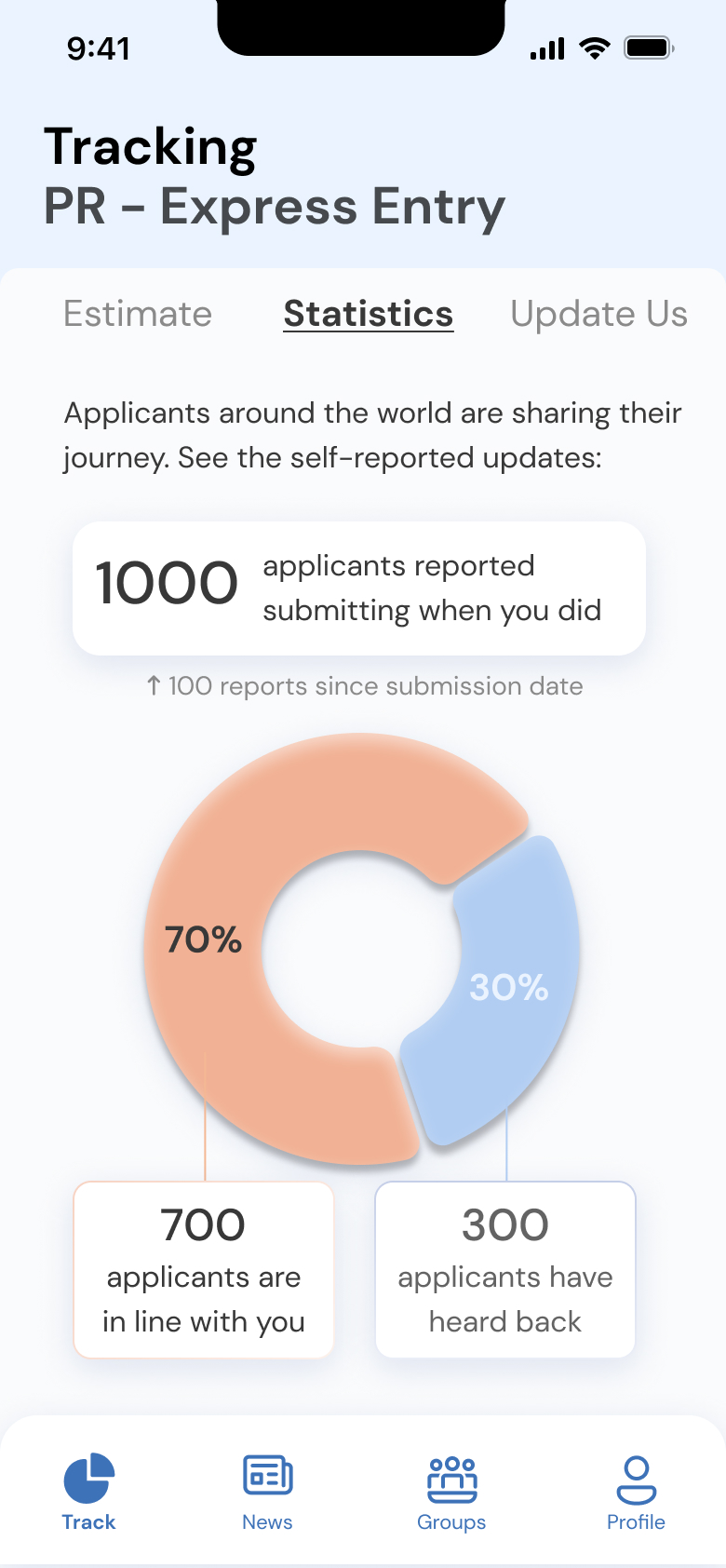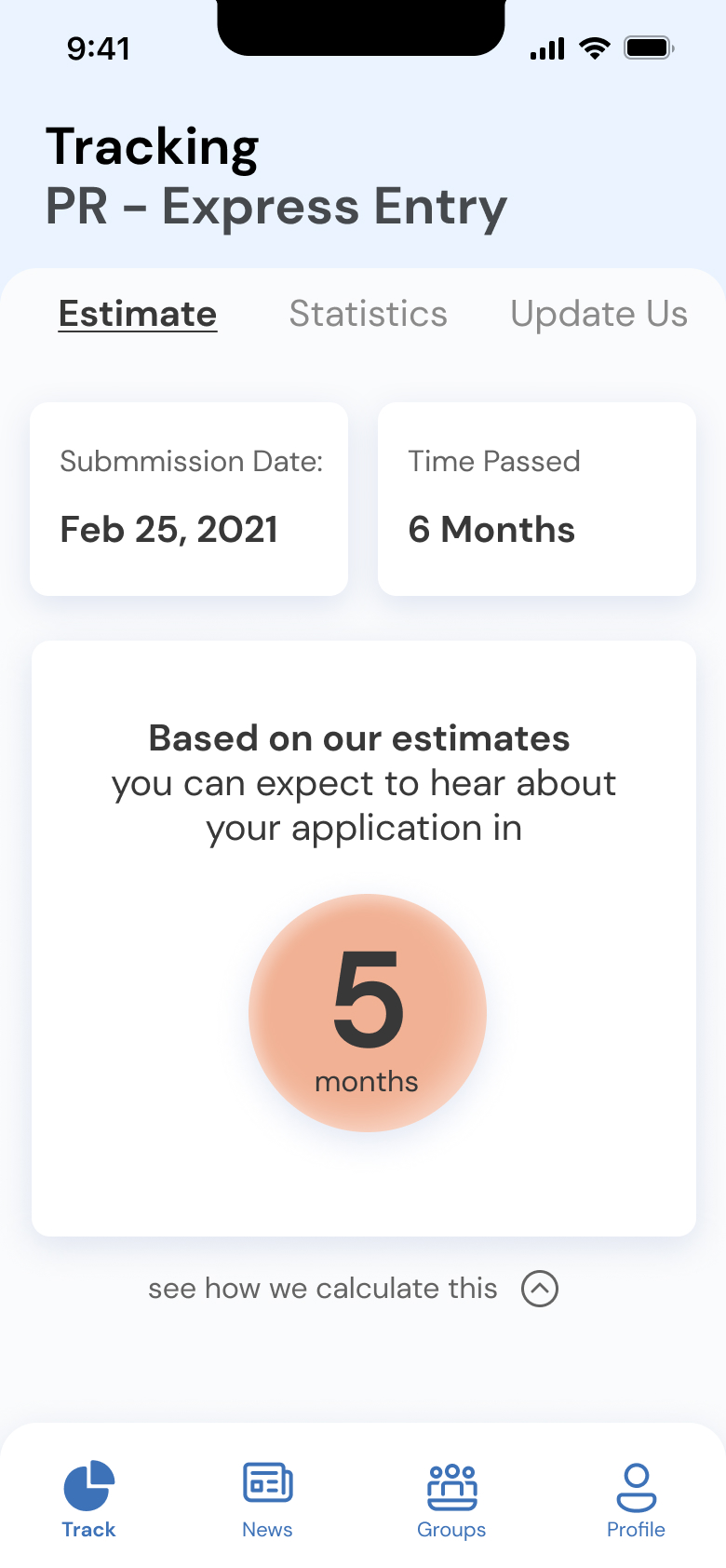 And At Last
View or interact with the prototype below!
the impact
How does On Track help newcomers?
Simple
On Track does not overwhelm the user with complicated jargon or processes. The user simply has to input three pieces of information and the app takes care of the rest.
Secure
On Track does not ask for personal or private information and none of the information provided is linked to the user. The user does not have to worry about giving information to a non-governmental application.
Informed
On Track eases stress and anxiety by providing them with information that is rarely available or very hard to find. We make it easy for the user to stay informed about the status of their application.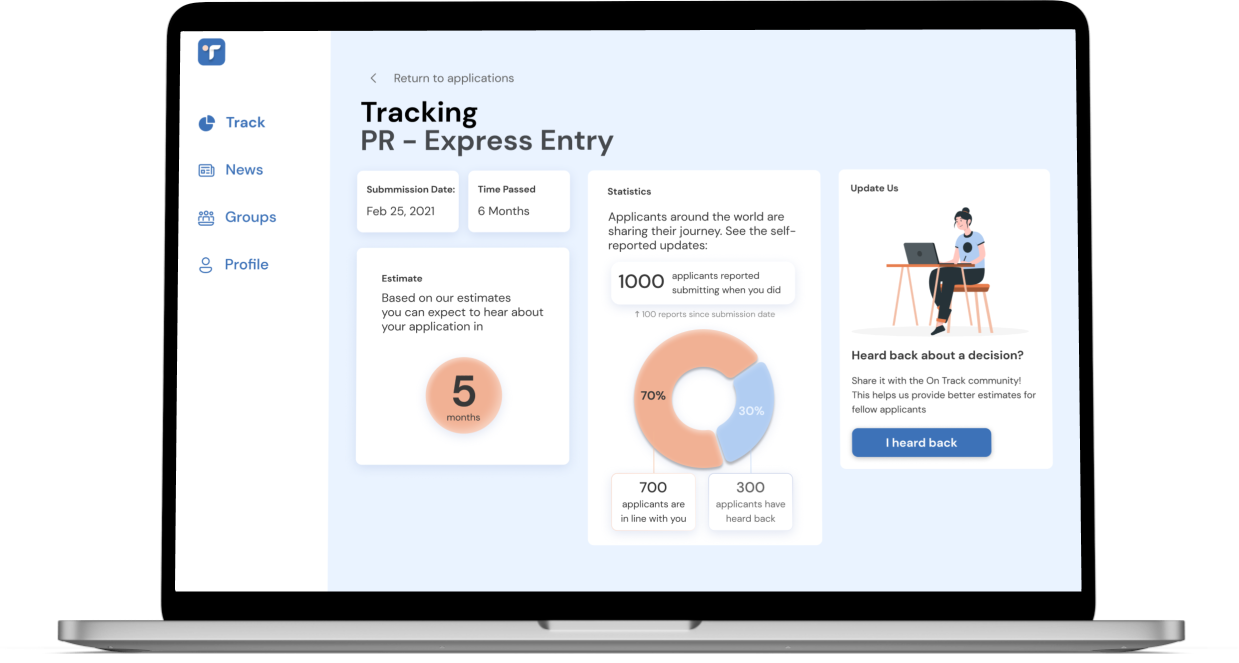 What would On Track look like on a different platform?
I chose to explore On Track on a desktop because the majority of the immigration application is done on the web. Now users can easily find updates on their application right from their computer.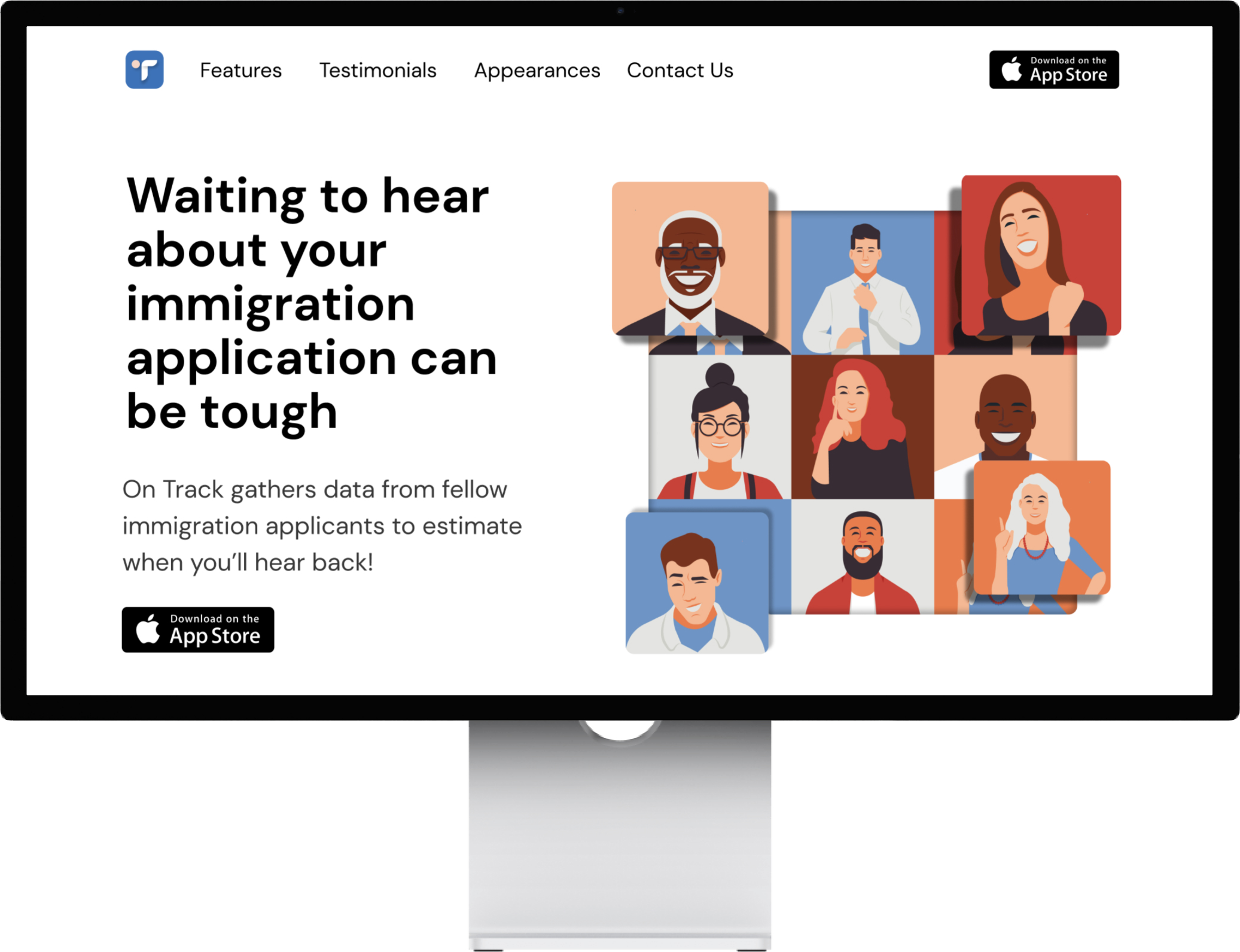 How might I market On Track?
I created a marketing site to share the value of On Track with as many newcomers as possible. I focused on highlighting helpful features to newcomers and creating a visual identity that is warm and welcoming.
Future Thinking
Developing the "news" and "groups" screens and conducting user testing. How would these sections enhance the user experience? Would it help the user feel less anxious and stressed?


Could On Track become a hub for immigration resources at every stage of the application? What other products and services would be replaced?
To be introspective
In conducting user tests and asking for feedback, it was extremely important to remove my personal assumptions and biases from what they had to say. This allowed ideation to be guided by research and not personal biases.
To ask the right questions
When conducting expert interviews, I found that asking: "What is the problem on your side?" and "What have you found regarding the users' frustrations?" allows for relevant discussion.
To lean on my peers
This project was extremely fun and exciting. But, it was also filled with uncertainty. In situations where I didn't know which direction to take, I learned that it was important to lean on fellow designers. By doing so, I gained a new perspective and was able to consider different angles to tackle the problem.
Thank you for reading my case study!
Want to work with me? Feel free to contact me!
...or just say hello on my social media.