Feedish
Helping businesses and influencers find the right match
Project Details
Contract Project - designing an MVP for a pre-launch startup

Timeline: 12 Weeks
The Team
My role: Sole Product Designer

Team: 5 teammates with various concentrations in Development, HR, Finance, and Operations
Tools Used
Figma

Discord

Jira

Good Notes

ChatGPT
business, technological and design goals
A designer, developer and business analyst click into a Discord channel...
Business goals: Make a profit, drive conversions, and get to market quickly

Technological goals: Developing efficiently in as little time and effort as possible

Design goals: Prioritizing the needs and pain points of the user
Having an understanding of these priorities helped me collaborate with my team and create solutions that balanced all three dimensions.
problem overview
Influencer Marketing In a Nutshell
The influencer market has been growing steadily from $1.7 billion in 2016 to an estimated $16.4 billion industry in 2022.

In spite of the growth in the industry, businesses and influencers still struggle to find meaningful brand partnerships in a seamless, time-efficient and cost-effective way.
solution
Making it easier for businesses to create and launch influencer campaigns
Status updates and bird's-eye view of drafts

Built-in AI tool to easily create campaign ads

Ranking system to automate the process of reaching out to influencers
secondary research
What do we know about influencers?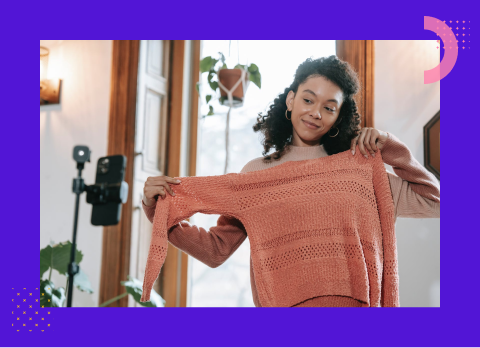 Common Influencer Type
Nano influencers (1k-10k followers) are the most common type of influencer in Canada, followed by micro-influencers.
92% of Canadian influencers are nano-influencers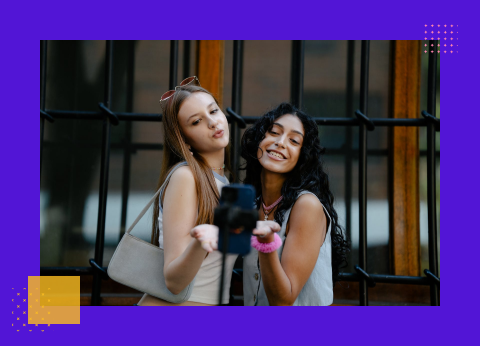 Demographic Information
64% of Instagram influencers in Canada are female
62% of TikTok influencers are under 25 years old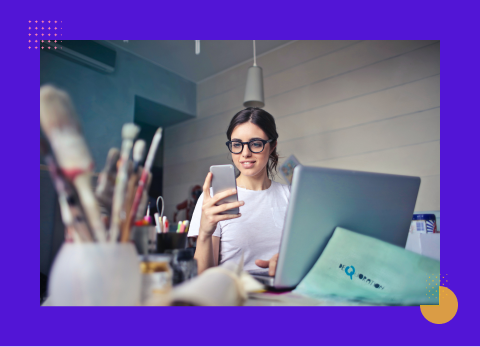 How they get brand deals
Influencers get brand deals by reaching out to brands through DMs or pitching through email.
They also attach a media kit that includes basic information about their engagement data and previous work
💡 Key Insights
It is likely that smaller influencers struggle more to find brand partnerships. Therefore, I recommend beginning by targeting nano or micro-influencers with a niche offering.
secondary research
What do businesses struggle with when it comes to influencer marketing?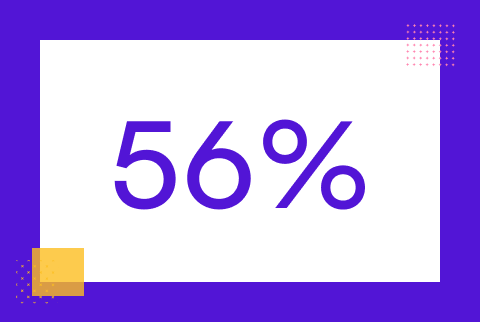 find it difficult to find the right influencer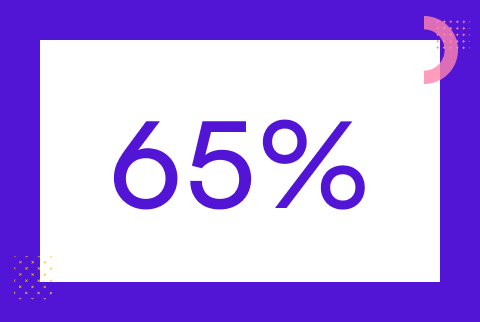 say measuring ROI is a top concern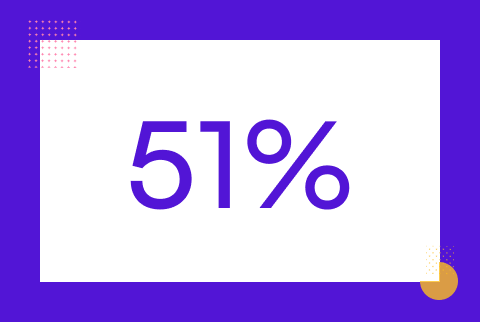 find that running influencer campaigns take a lot of time
💡 Key Insights
Brand-influencer fit and efficiency are two concerns that we can address in the MVP. More research would help us understand the "why"
secondary research
Analyzing Competitor Reviews In Lieu of Conducting Interviews
Finding participants, planning and conducting interviews happened alongside the MVP design. So I decided to conduct an affinity analysis on competitor reviews to ground the design on real user feedback from the beginning.
Consolidating the Research into Personas
After gathering all the research, the major themes and insights were summarized into personas and user journeys. Personas are incredibly beneficial. In fact, Forrester discovered that a redesign effort with personas can provide a return of up to 4 times more than a redesign without personas. Hence, allow me to introduce you to Gloria and Maria:
💡 Key Insights
Businesses care about finding the right collaborator, and they want to do it in a fast and frictionless way.

Influencers want an easy way to connect with businesses and get content approved. They often feel undervalued.
Defining The Brand Identity
Who is Feedish?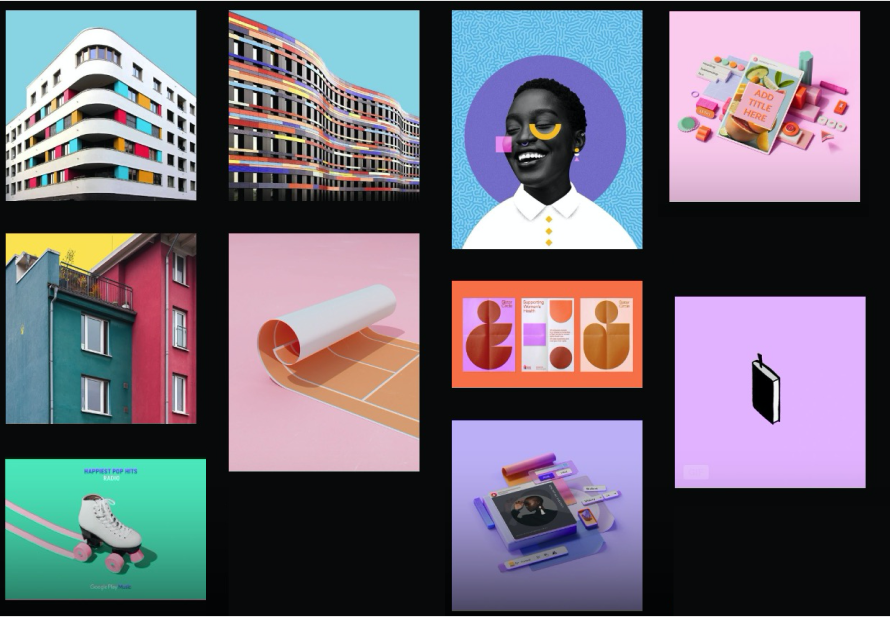 brand development
Agreeing on a Brand Personality
To begin the brand development for Feedish, I led discussions on adjectives that we'd like our users to associate with Feedish:
Young

Empowering

Collaborative

Transparent
style guide
Colour and Typography
I then extracted colours from the mood board and created 12 different colour combinations until I landed on one that fits the brand best.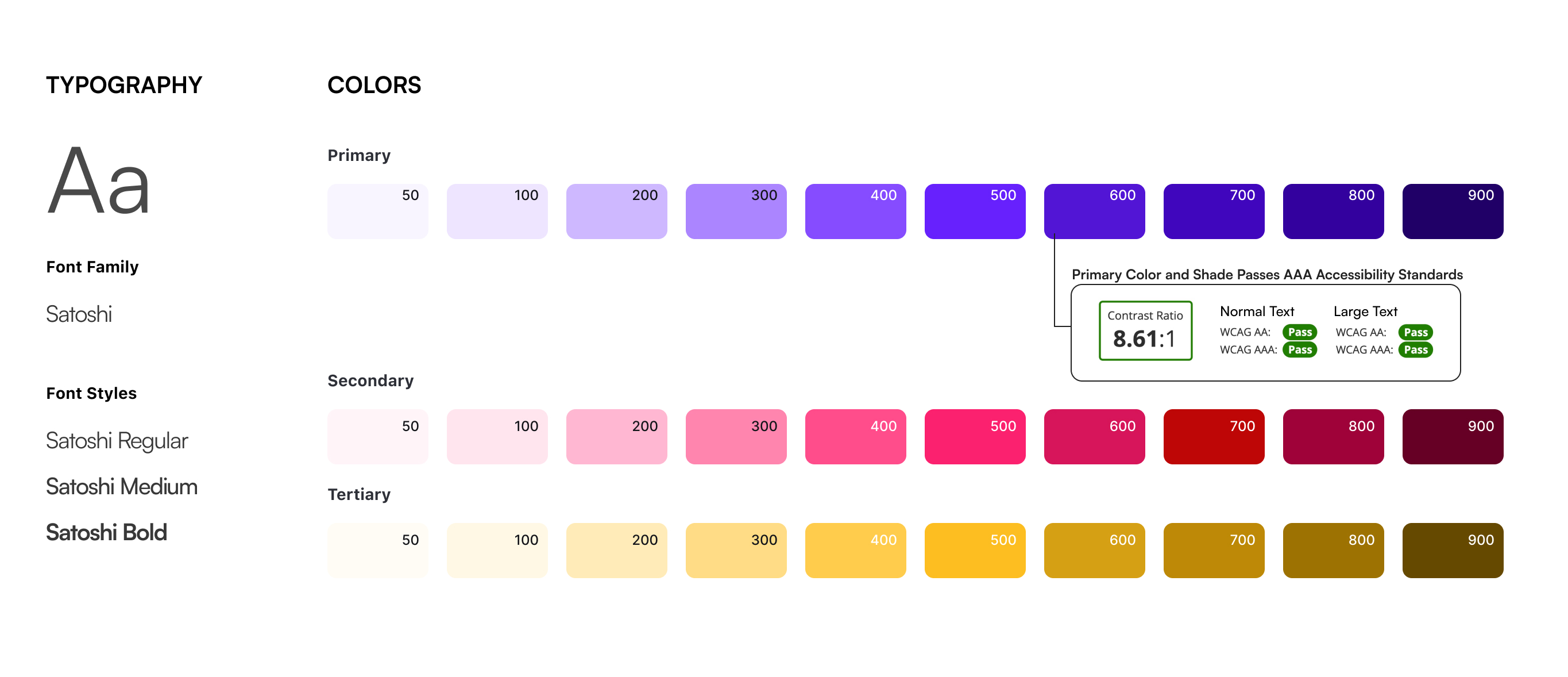 logo creation
The Face of Feedish
After countless explorations, sketches and iterations, I was able to create a logo that communicated the feelings of empowerment and creativity that we wanted our brand to exude!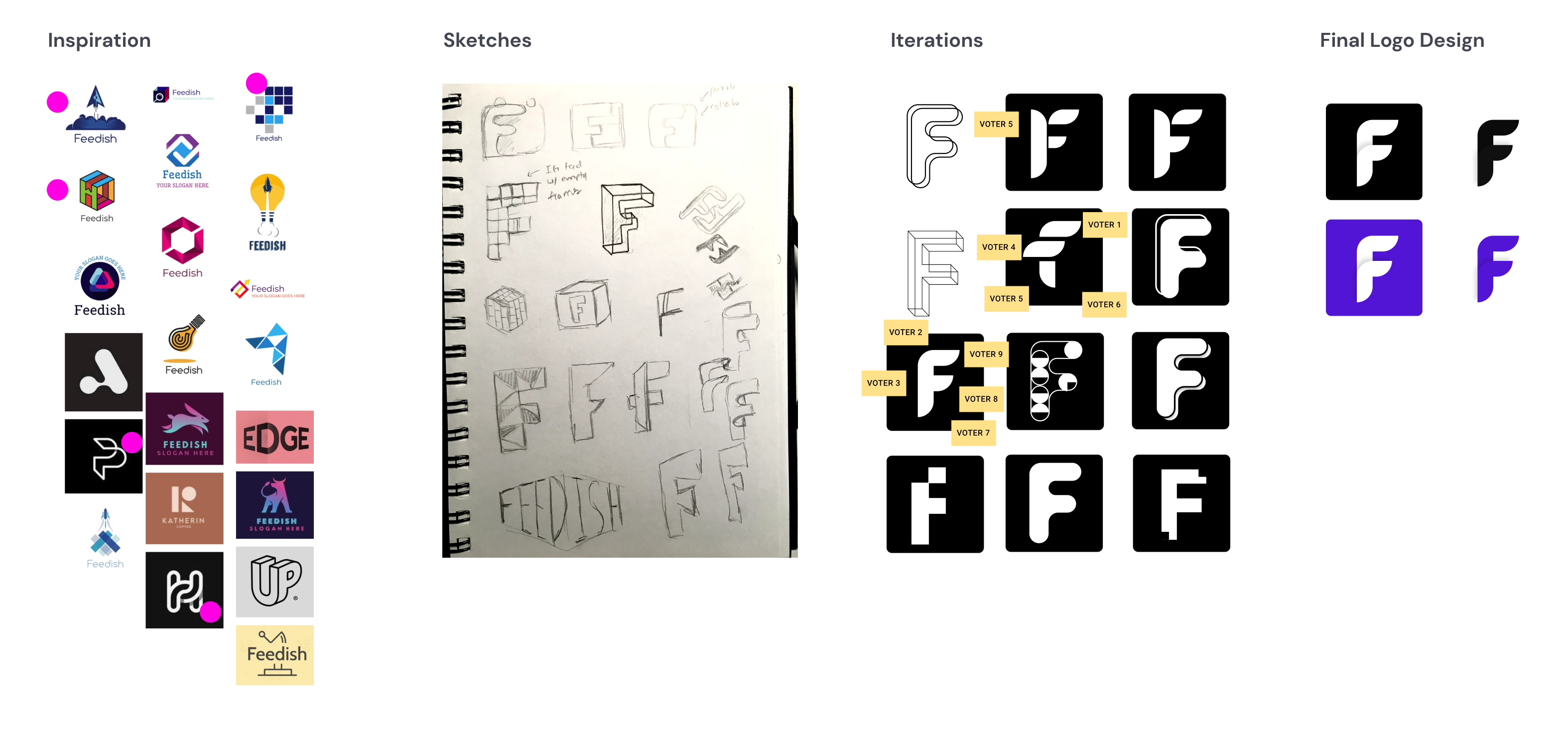 For the 6B Smartphone Users
(and my parents who use the iPad for everything)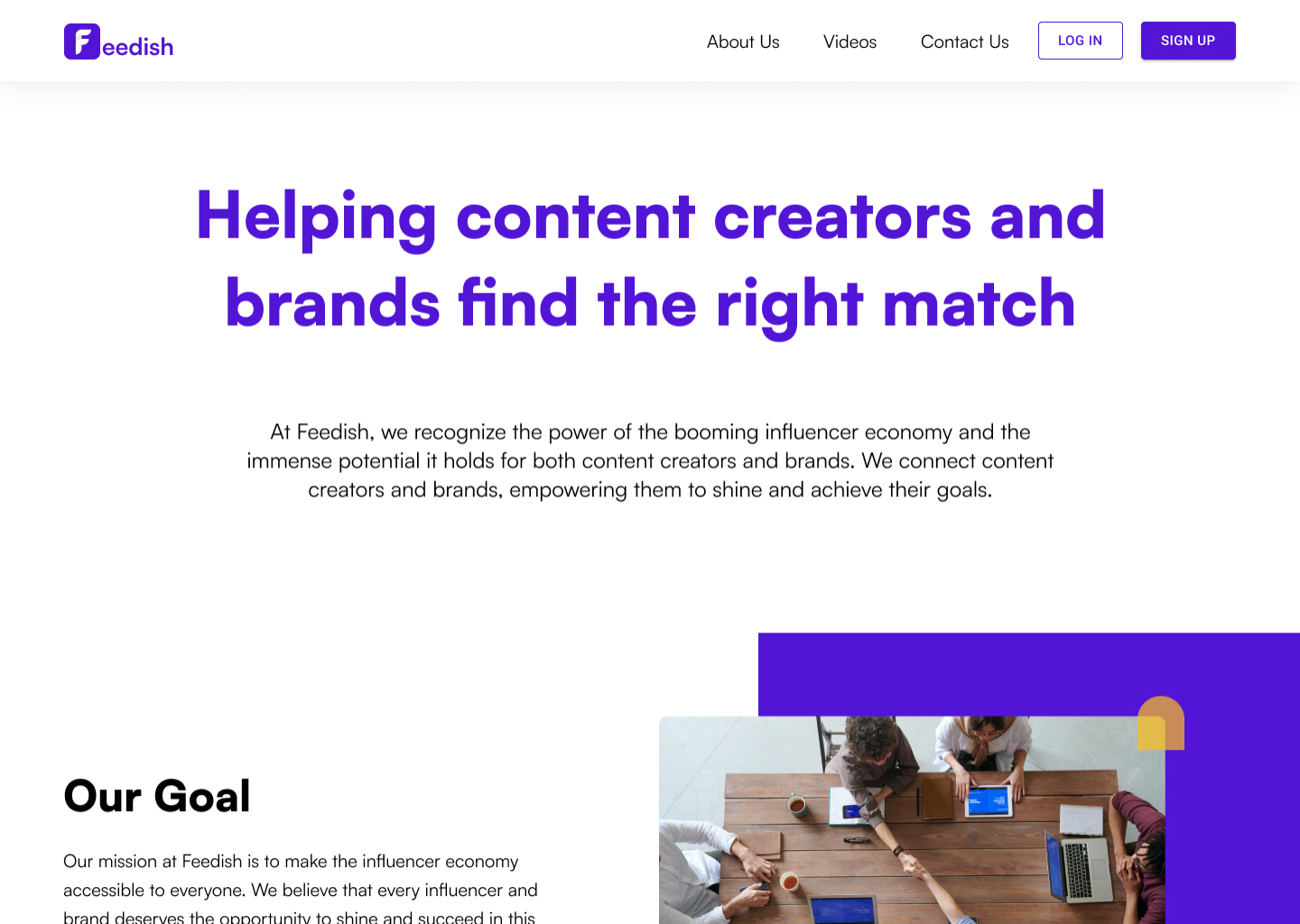 Desktop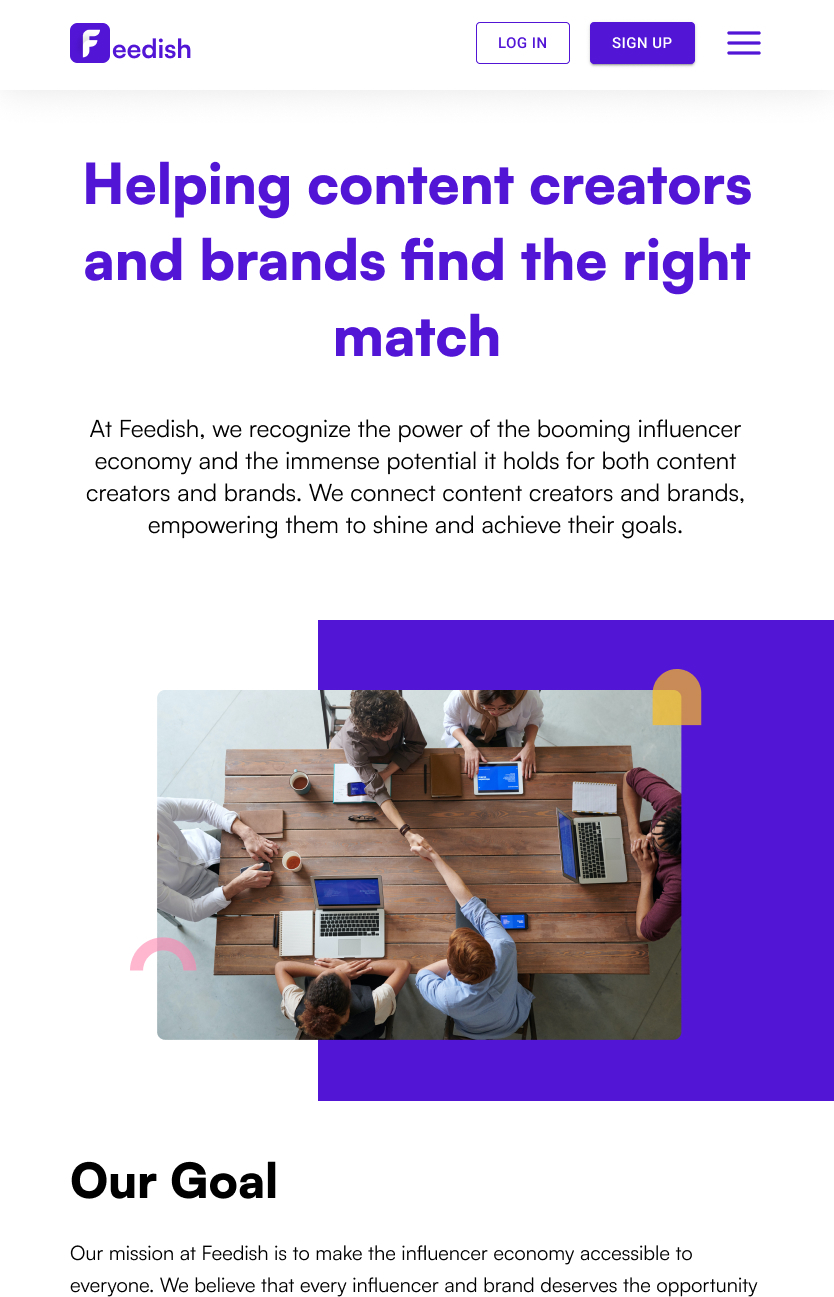 Tablet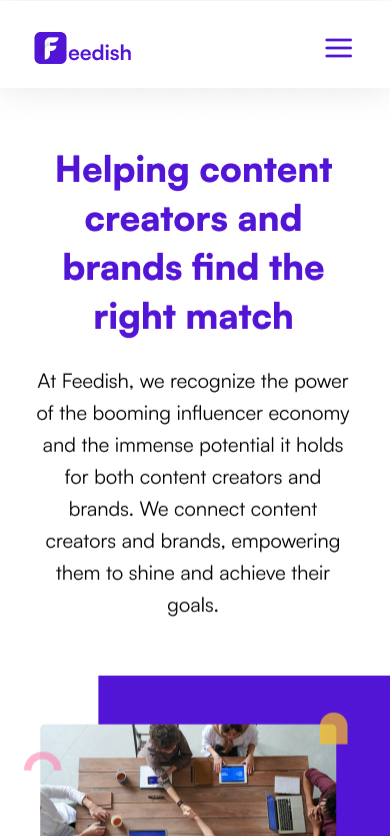 Mobile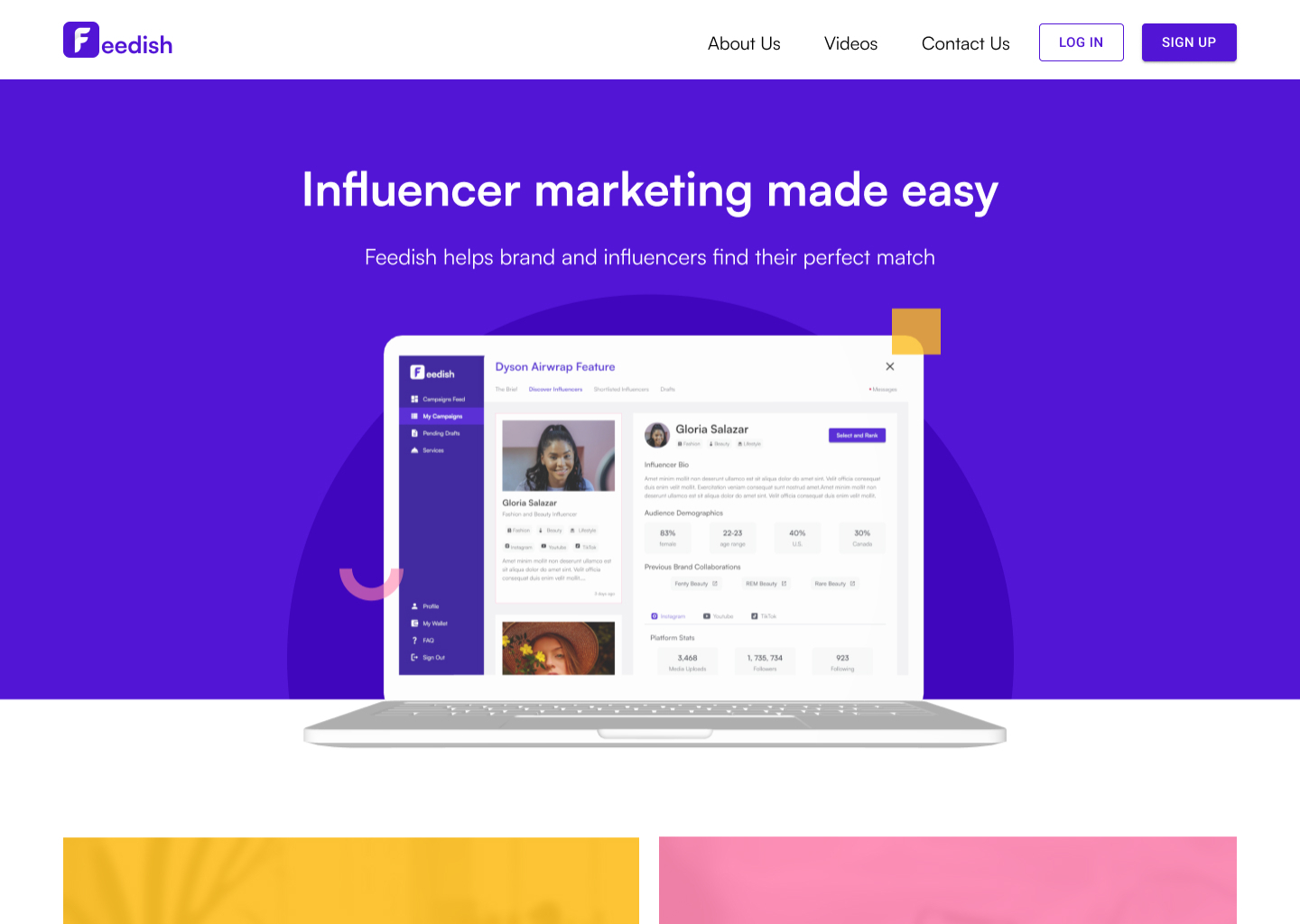 Desktop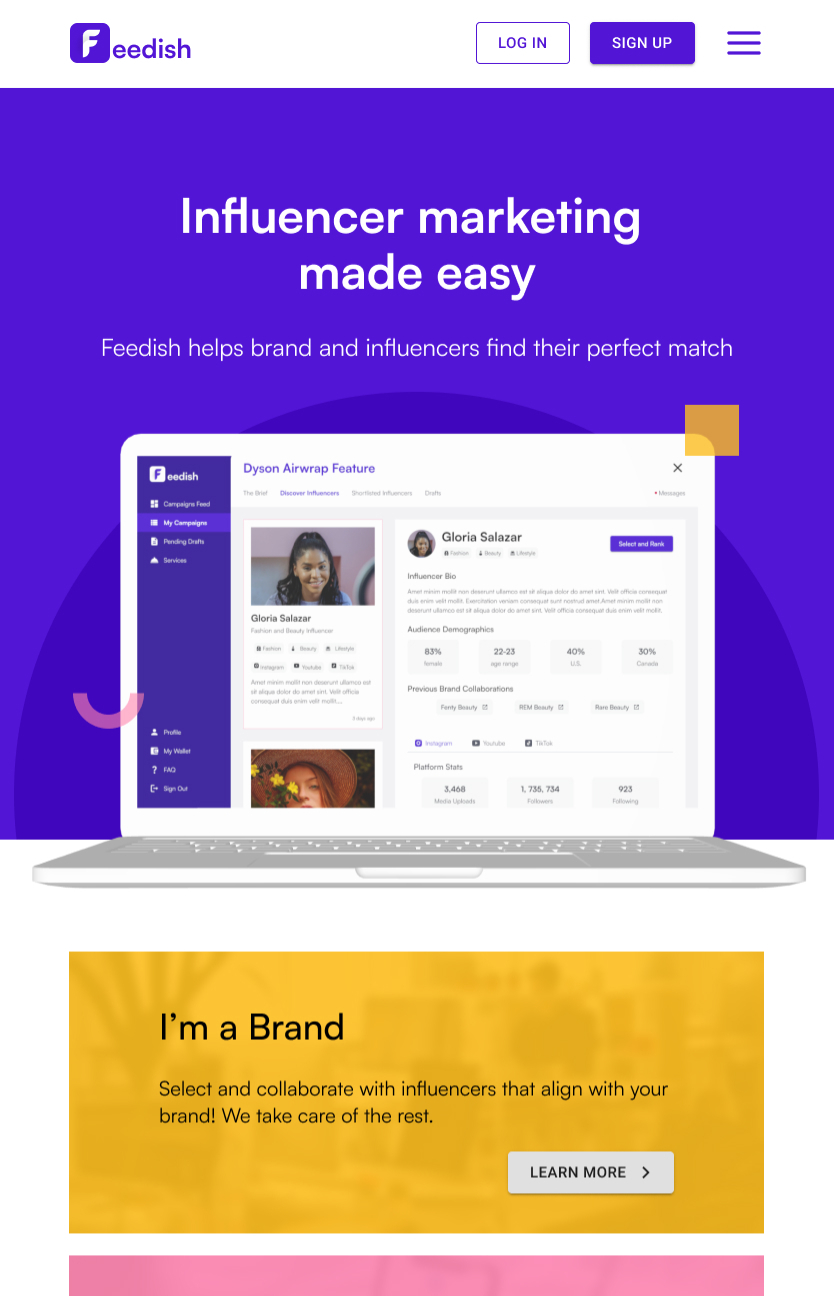 Tablet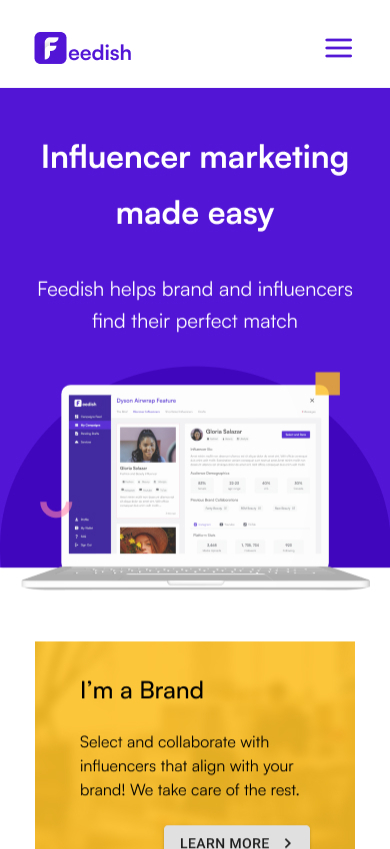 Mobile
user flow
From User Stories to User Flow
User Story 1: As a business, I want to quickly find influencers that match my brand so that I can increase brand awareness of my company

User Story 2: As a business, I want to send revisions and comments so that the influencer creates content that matches business standards
User Story 3: As a business, I want to keep track of communication with influencers so that we are able to build a relationships with them inspiration & sketches
Putting pen to paper
I gathered inspiration for every page to study users' mental models. The inspiration sparked the design of the final sketches.
Some key design considerations included:
Flexibility - Prioritizing designs that could be reused in future task flows

Speed - Reducing the amount of time required to launch a campaign

Simplicity - Reducing friction by guarding against errors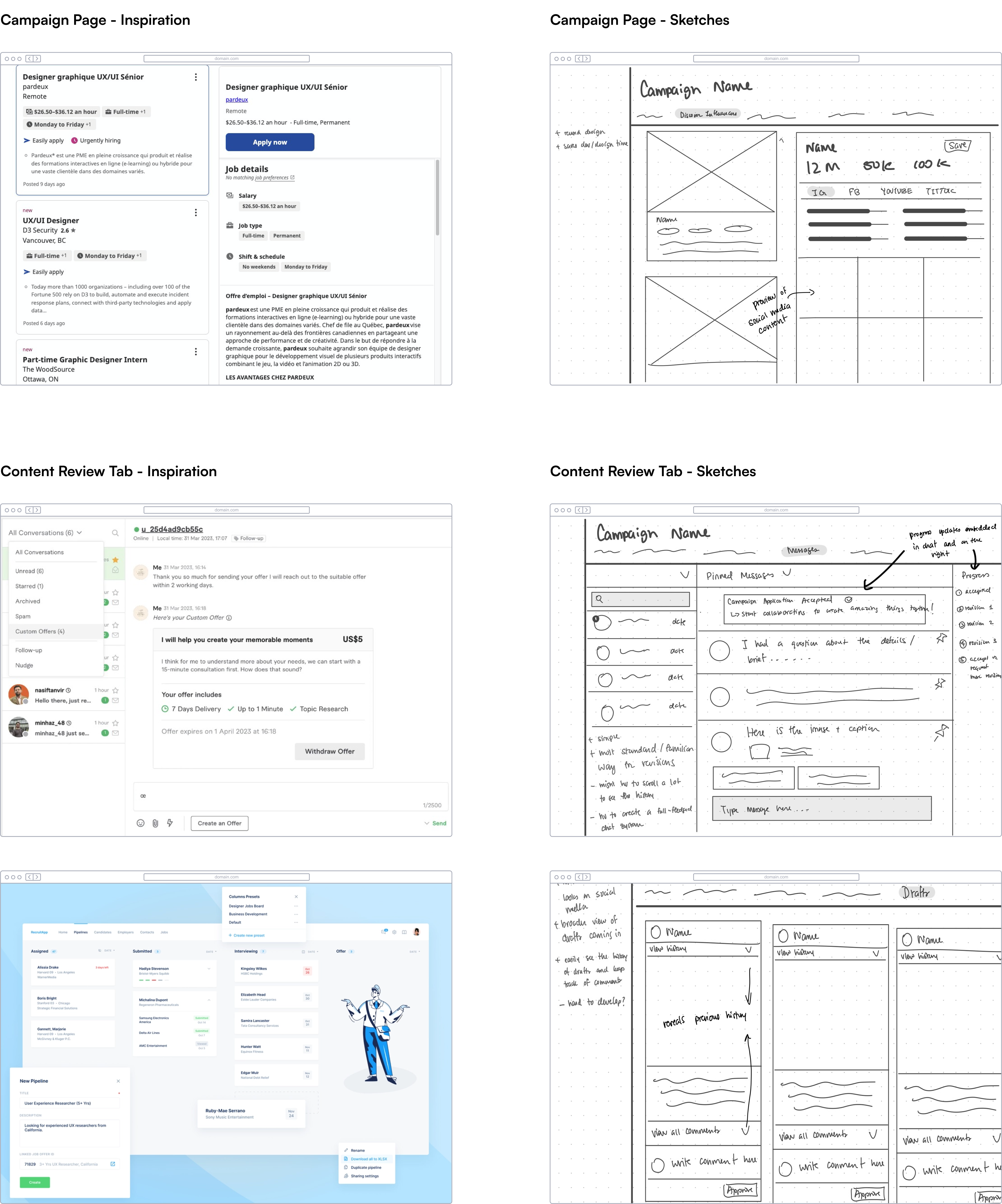 high-fidelity wireframes
The Best for Last
I combined colours, typography and UX principles to create the final design! Check out the key features below: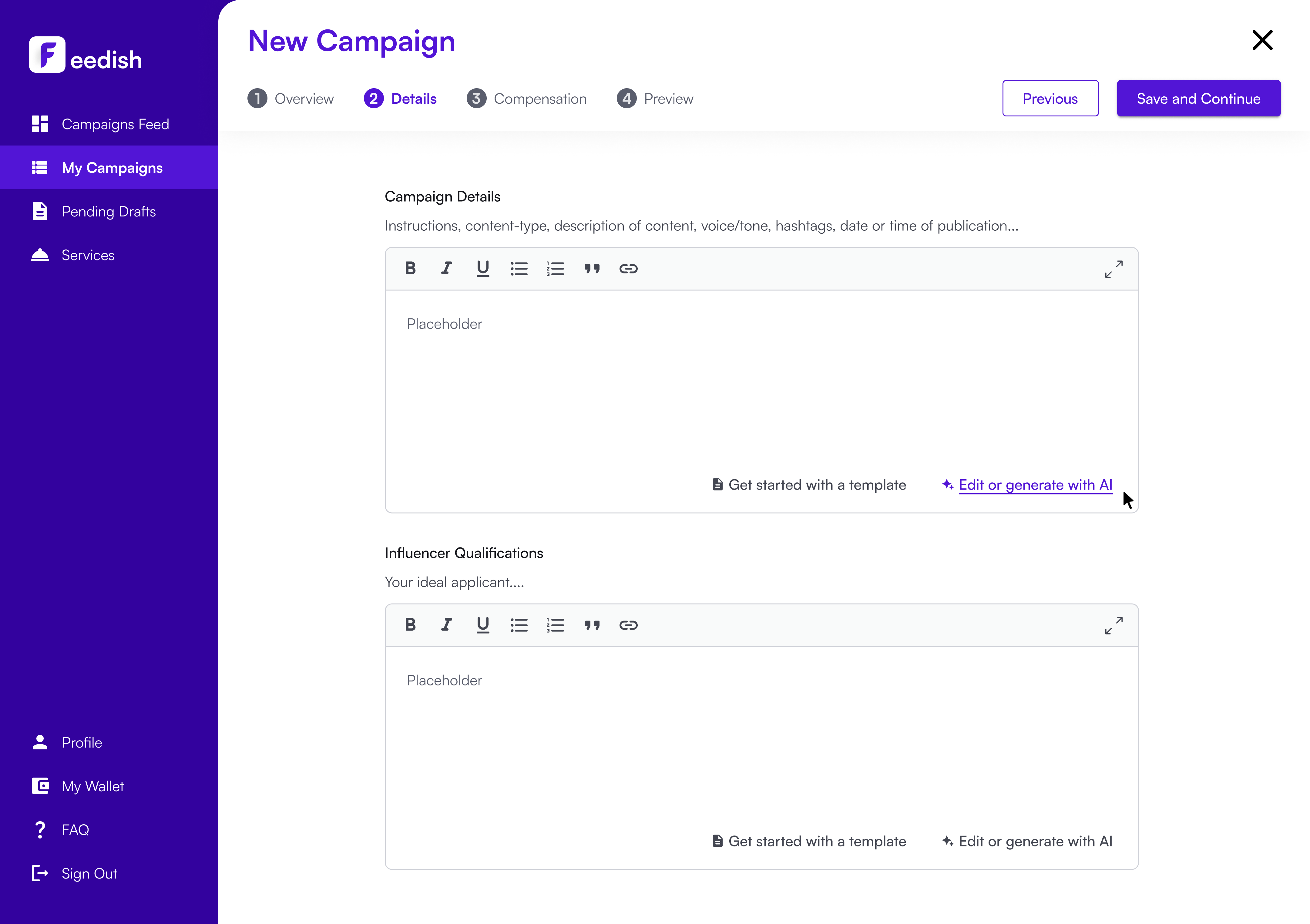 AI to help with writer's block
No need to write campaign details and qualifications from the ground up. Businesses can get started with a template or generate using AI!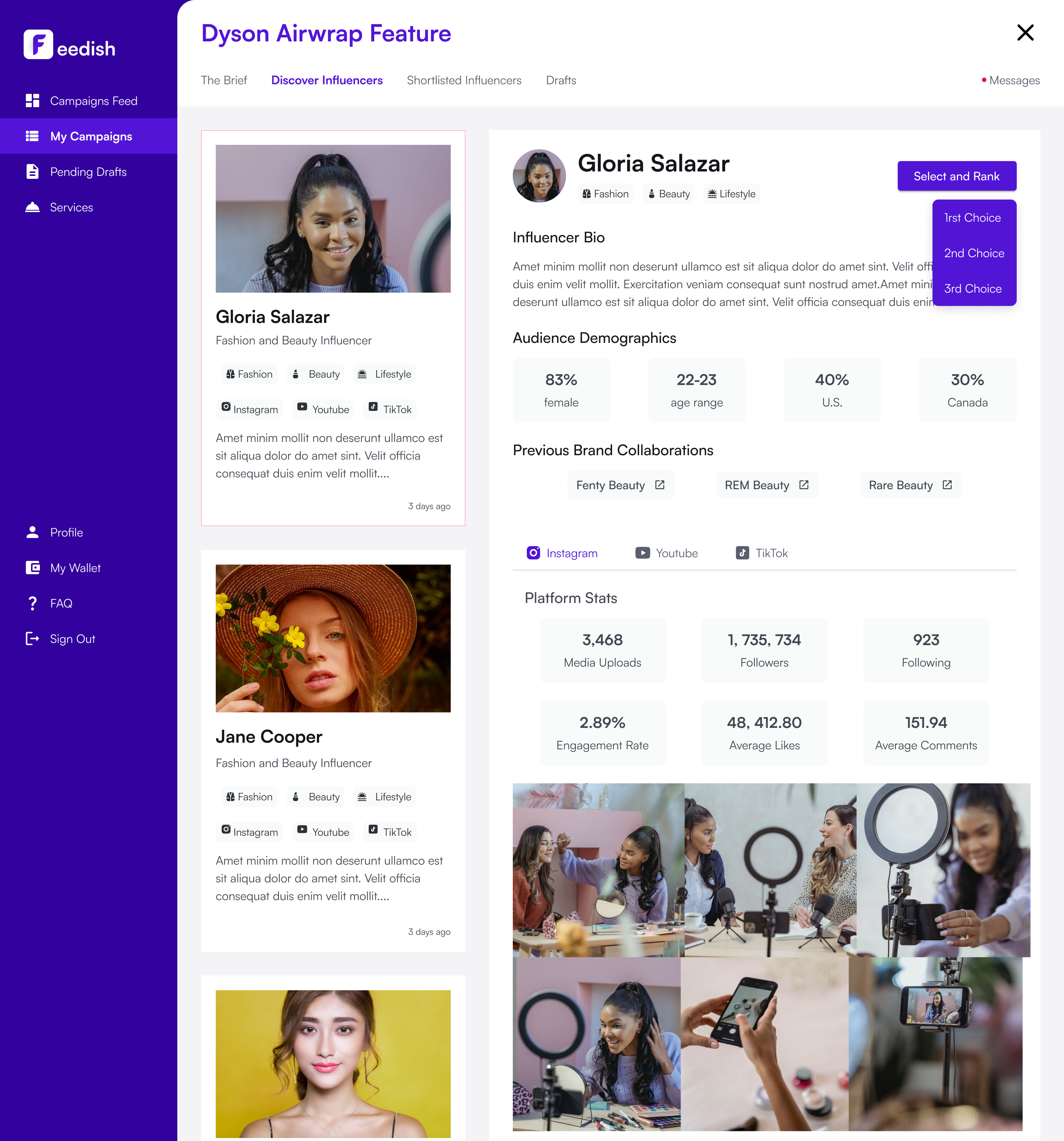 Rank influencers and save time
Businesses can rank influencers that apply to their campaigns in one sitting. If the first-ranked influencer declines the offer, Feedish will automatically reach out to the next person.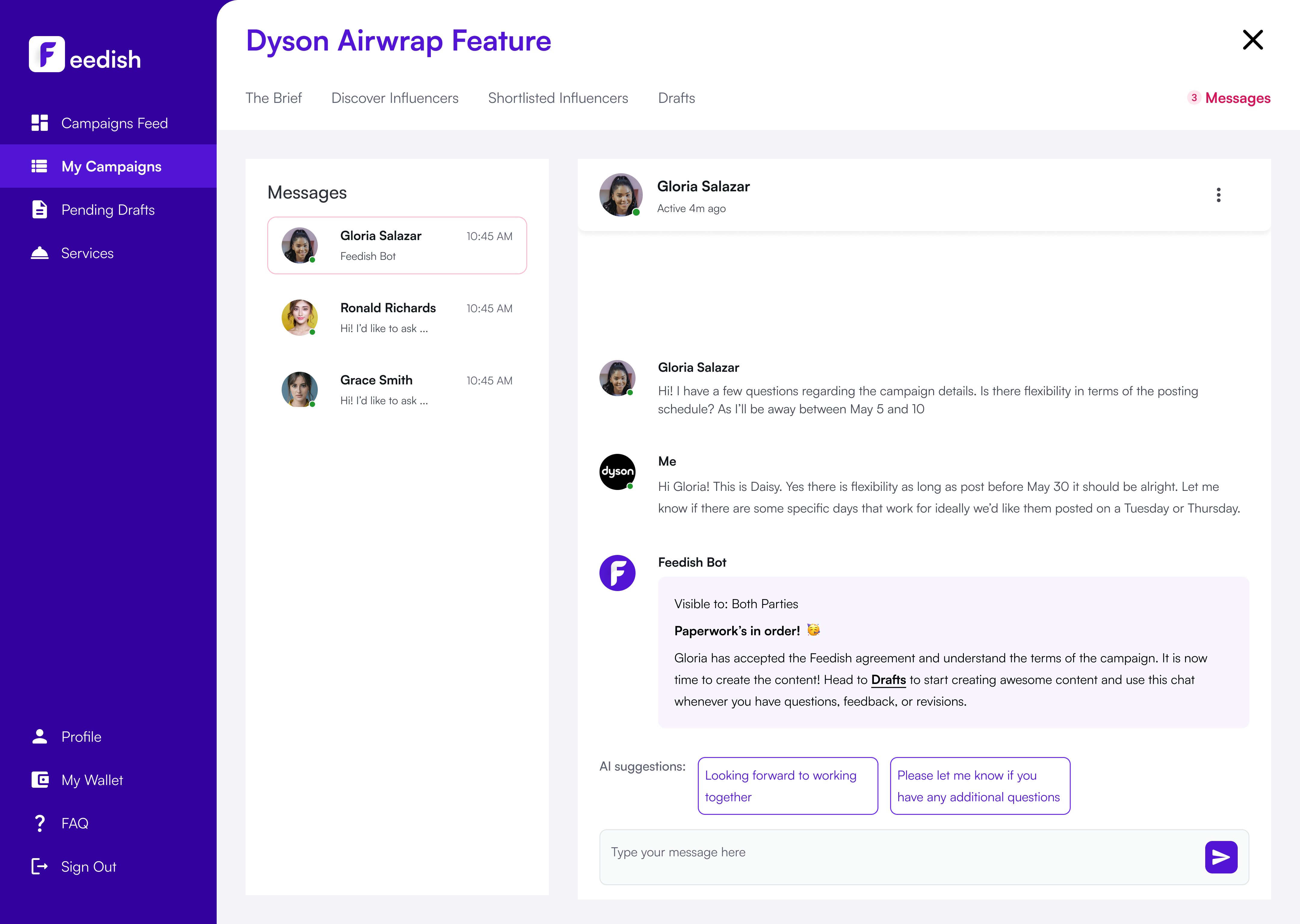 Feedish Bot will guide you on next steps
The Feedish Bot will help you move things along by keeping you updated on next steps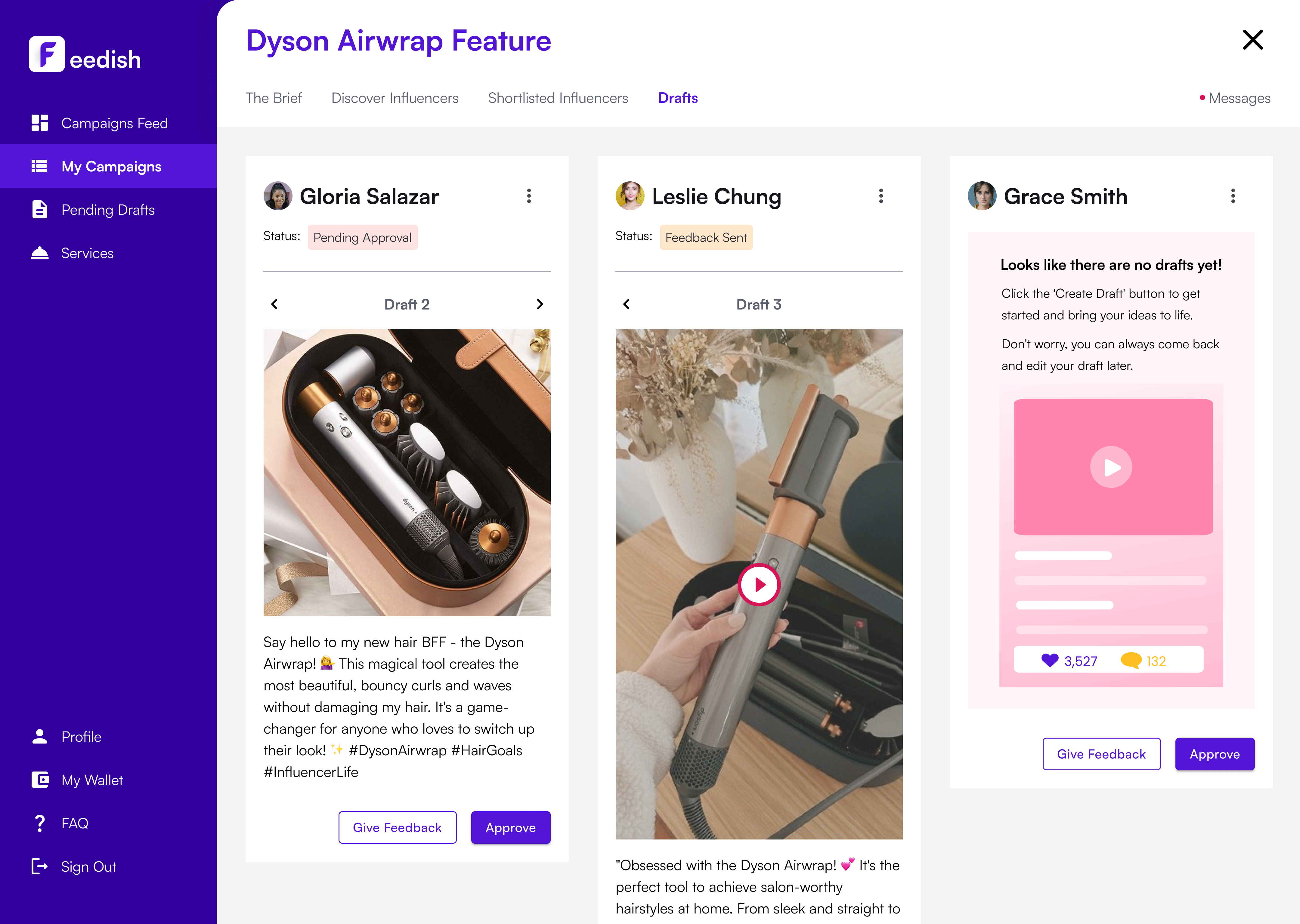 Easily revise and approve drafts from multiple influencers
Keep track of all the influencers within a campaign and never lose sight of the status of the campaign
prototype
Feedish in Action
View or interact with the prototype below!
user testing
What about user testing?
I conducted one round of user testing with 5 users for the Campaign Creation Form. It was helpful but also very time-intensive. So moving forward, we decided to conduct user testing through Hotjar - where users can provide live feedback on a fully functional product instead of a prototype.
key performance indicators
How would I track the success of Feedish's MVP?
Time required to create and complete a campaign
We can measure the average time it takes to create a campaign and compare it against the self-reported time for users before using Feedish. We can also conduct AB testing to find whether the AI feature works as intended.
Conversion and retention rate
How many users sign up for Feedish? How many users use Feedish to post or apply for a campaign?
How many users continue to use Feedish to find their next brand or influencer deal?
User Feedback
Hotjar has a feature where users can submit Feedback directly from the website.
Is there an overall positive sentiment toward Feedish? Are the features helpful?
key learnings
Design Lessons: Exploring the Startup World
Balancing technical, business and user needs
To ensure optimal discussions and decision-making, I learned that it was important to find a common ground born out of an agreed-upon set of criteria.
Navigating uncertainty
Being the only Product Designer on the team was exciting but also daunting. I learned to rely on my teammates for support and found that grounding my decisions in research provided a lot of clarity.
Collaborating with a developer
I worked alongside the Chief Technology Officer. I learned to design in a way that made it easier for him to analyze the design specs and to keep an open line of communication to discuss the feasibility of certain features.
Thank you for reading my case study!
Want to work with me? Feel free to contact me!
...or just say hello on my social media.